Background
Education
Career
Pastor churches, Pennsylvania, 1962-1971, Lansdowne United Methodist Church, Pennsylvania, 1972-1974. Member United States Congress from 7th Pennsylvania District, 1975—1986. Member public works and transportation committee on its subcommittee.

Economic development, water resources, surface transportation. Member veterans affairs committee. Executive committee for house enviro House Select Committee Assassinations, 1976-1978.

Executive director Committee for National Security, 1988-1990. President School Theology at Claremont, California, since 1990. Visiting professor social change Swarthmore (Pennsylvania) College, 1987.

Chairman N.E.-Midwest Congressional Coalition, 1978-1982. Chairman Congressional Clearinghouse on the Future, 1982-1986. Member clergy unit Philadelphia Police Department, 1972.

United Protestant chaplain Drexel University, 1971-1974.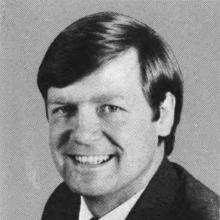 Born
May 29, 1943
(age 74)
Nationality
1965

1968

1967

1962 - 1971

1972 - 1974

1975 - 1986

1976 - 1978

1988 - 1990

1990