Background
Education
Career
Clerk Bureau Internal Revenue, 1921. Vice consul Tampico, 1921-1923, Puerto Castilla, 1923-1924. Consul Arica, 1925; secretary American Delegation and assistant secretary Plebiscitory Commission Tacna-Arica Arbitration, 1926.

3d secretary Port-au-Prince, 1927. 2d secretary Managua, 1928-1933, San Salvador, 1940, counselor of embassy, 1940-1941. Counselor general Division of America Republics, 1937.

1st secretary Havana, 1933-1937. Assistant chief Division of Latin American Affairs, 1924, Madrid, 1941-1944. Ambassador to Paraguay, 1944-1947, Colombia, 1947-1951, Cuba, 1951-1953, Chile, 1953-1956, Argentina, 1956-1960.

Adviser American delegate, 2d Regional Conference of America States. Delegate 9th International Conference American States, Bogota. Colombia, 1948; advisory to American delegate 4th Meeting of Consultation of Ministers of Foreign Affairs of America States, 1951.

Past. deputy commandant for foreign affairs National War College.
Connections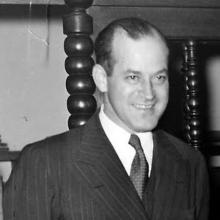 Born July 25, 1899
Nationality
1918

1921

1949

1921

1921 - 1923

1923 - 1924

1924

1925

1926

1927

1928 - 1933

1933 - 1937

1937

1940

1941 - 1944

1944 - 1947

1947 - 1951

1951 - 1953

1953 - 1956

1956 - 1960