Ezra Taft Benson
Ezra Taft Benson, American church executive, former secretary of agriculture. Recipient testimonial for distinguished service to agriculture University Wisconsin, 1952; scholarship Gamma Sigma Delta, honorary society agriculture Iowa State College; fellow University California, Berkeley.
Background
Benson, Ezra Taft was born on August 4, 1899 in Whitney, Idaho, United States. Son of George Taft and Sarah (Dunkley) Benson.
Education
Student, Utah State Agricultural College, Logan, 1921. Bachelor of Science, Brigham Young University, 1926. Doctor Public Service (honorary), Brigham Young University, 1955.

Master of Science in Agricultural Economics, Iowa State College, 1927. Doctor Agricultural (honorary), Iowa State College, 1953. Postgraduate, University California, 1938.

HHD, College Osteopathic Physicians and Surgeons, 1951. Doctor of Laws, University Utah, 1953. Doctor of Laws, Bowdoin College, 1955.

Doctor of Laws, University Maine, 1956. Doctor Agriculture (honorary), Michigan State College, 1955. Doctor of Science (honorary), Rutgers University, 1955.
Career
Mission Church Jesus Christ Latter-day Saints, British Isles and Europe, president Newcastle district, 1921-1923. Farm operator, 1923-1930. County agricultural agent University Idaho Extension Service, Preston, 1929-1930.

Extension economist and marketing specialist in charge economic and marketing work State of Idaho, 1930-1938. Organizer, secretary Idaho Cooperative Council, 1933-1938. Executive secretary National Council Farmer Cooperatives, 1939-1944.

Member executive committee, board trustees American Institute Co-op, 1942-1952, vice chairman board trustees, 1942-1949, chairman, 1952. Secretary agriculture United States Department Agriculture, Washington, 1953-1961. Director Olson Brothers, Inc.

Board directors Farm Foundation, 1946-1950. Member National Agricultural Advisory Committee, World World War II. Member National Farm Credit Committee, 1940-1943.

United States delegate 1st International Conference of Farm Organizations, London, 1946.
Membership
Member national executive board Boy Scouts American, 1948-1966, awarded Silver Antelope, 1951, Silver Buffalo award, 1954. Member Boise Stake Presidency, Church of Jesus Christ of Latter-day Saints, Idaho, 1935-1939, president Boise Stake, 1938-1939. President Washington District Council, Eastern States Mission, 1939-1940, Washington Stake, 1940-1944.

Ordained apostle of Church, member Council of Twelve, 1943, president European Mission, 1946, 63-65, member General Church Board Education. President Church Jesus Christ Latter-day Saints, Salt Lake City, 1985-1994. Branch trustees Brigham Young University.

Member American Marketing Association, Farm Economics Association, Delta Nu, Alpha Zeta.
Connections
Married Flora Smith Amussen, September 10, 1926. Children: Reed, Mark, Barbara, Beverly, Bonnie, Flora Beth.

father: George Taft Benson

mother: Sarah (Dunkley) Benson

spouse: Flora Smith Amussen

children: Reed Benson

Mark Benson

Barbara Benson

Beverly Benson

Bonnie Benson

Flora Beth Benson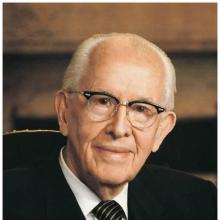 Born August 4, 1899
Died
May 30, 1994
(aged 94)
Nationality
1927

Iowa State College

1929 - 1938

agricultural agent and an extension economist and marketing specialist, University of Idaho Extension Service


1933 - 1938

organizer and secretary, Idaho Cooperative Council


1939 - 1944

executive secretary, National Council of Farmer Cooperatives


1942 - 1952

member of the board of trustees, American Institute of Cooperatives


1943

church's Council of the Twelve Apostles


1953 - 1961

secretary of agriculture, President Dwight D. Eisenhower's


1985

president, Church of Jesus Christ of Latter-day Saints

Award
Contributor  
First Name
Other Names
Spelling variants for First Name
Spelling variants for Last/Family/Name
Activities

secretary of agriculture
church executive
executive

College/University

Utah State Agricultural College
Brigham Young University
Iowa State College

Career

University of Idaho Extension Service
Idaho Cooperative Council
National Council of Farmer Cooperatives
American Institute of Cooperatives
President Dwight D. Eisenhower's
church's Council of the Twelve Apostles
Church of Jesus Christ of Latter-day Saints

Awards
Relatives

Reed Benson
Mark Benson
Barbara Benson
Beverly Benson
Bonnie Benson
Flora Beth Benson
Sarah (Dunkley) Benson
Flora Smith Amussen
George Taft Benson

Religious beliefs
Views and World outlook
Quotations
Party affiliation description
Favorite Sports & Clubs
Favorite Athletes
Ethnicity details
Favorite Political Figures
Favorite Philosophers & Thinkers
Favorite Music & Bands
Favorite writers
Favorite Artists
Other interests
Personality
Quotes from others about the person
Physical Characteristics
Go
up
Edit Profile