Samuel Rene Gummere
Samuel Rene Gummere was an American lawyer and diplomat who served as US Consul-General in Tangier, Morocco from 1898–1905, and Ambassador to Morocco from 1905–09, and became well known for his roles in the Perdicaris incident of 1904 and the Algeciras Conference.
After 1909 Gummere retired from public life.
Career
He became an important player in the Perdicaris incident, in which Berber chieftain Mulai Ahmed er Raisuli kidnapped American expatriates Ion Perdicaris and his stepson, Cromwell Varley.

He also served as one of the American mediators, under Ambassador to Italy Henry White, in the Algeciras Conference of 1906, which helped to resolve European tensions over Morocco.
Major achievements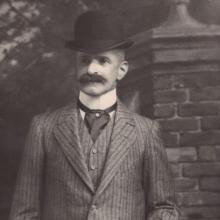 Contributor  
First Name
Middle Name
Place
Career

Law practice
Ambassy
Ambassy

Major Achievements

Gummere was appointed as the first United States Minister to Morocco as a reward for his service in resolving the Perdicaris incident.

Address
Family description
Background
Membership description
Relatives

Barker Gummere
Elizabeth (Stryker) Gummere
William Stryker Gummere
Barker Gummere

School and college years description
Personality
Quotes from others about the person
Physical Characteristics
Go
up
Edit Profile