Education
Career
Producer Second Opinion, reporter Health Week in Review Station KISS-FM, Boston. Associate producer, newswriter Station WBZ-television. Producer NBC News, 1991—1993.

Co-host The Know Zone Discovery Channel. Chief East Bay bureau Station KRON-television, San Francisco, reporter, 1993—1996. Co-host The Site, Nightly News, Weekend Today Microsoft and National Broadcasting Company, 1996—1999.

Anchor, Weekend Today NBC, 1999—2003. Co-anchor, American Morning Cable News Network, 2003—2007. Anchor, special correspondent Cable News Network: Special Investigations Unit.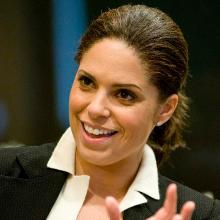 1991 - 1993

1993 - 1996

1996 - 1999

1999 - 2003

2003 - 2007