Asma Jahangir
Asma Jahangir, Pakistani, Swiss lawyer. Bar: 1992. Recipient Sitara-e-Imtiaz, Pakistan, 1995, Martin Ennals award, 1995, King Baudouin International Development prize, 1998, Human Rights award, Lawyers Committee For Human Rights, 1999, Millennium Peace prize, 2001, Ramon Magsaysay award, for Public Service, 2002.
Education
Career
Leader student protest against military dictator Ayub Khan, 1969. Filed constitutional petition in Supreme Court challenging father's arrest and legality of Bhutto's government, 1972, won case, 1982. Advisory; founding member Punjab Women Lawyers Association, convenor, 1980.

Co-founded first all-woman solicitors' office in Pakistan with three other female lawyers, 1981. Founding member Women's Action Forum, 1981, executive member, 1985—1987. Advisory of High Court, since 1982.

Executive committee member Lahore High Court Bar Association, 1985—1987. Council member LAWASIA, Sydney, Australia, 1985—1987. Co-founded AGHS Legal Aid (first free legal aid center in Pakistan), 1986.

Vice-chairperson Defense for Children International, Geneva, 1986—1988. Founding member Human Rights Commission communications of Pakistan, Lahorne, since 1986, secretary general, 1987—1993, chairperson, 1993. Member steering committee Asia Pacific Forum on Women Law and Development, Malaysia, 1987—1990.

Chairperson Standing Committee on Human Rights, LAWASIA, Australia, 1988—1990. Executive member Punjab Bar Council, 1988—1993. Director International Center for Human Rights and Democratic Development, Canada, 1990—1993.

Advisory of Supreme Court, since 1992. Board member Interights, London, 1997, Commonwealth Lawyers Association, London, 1997, International Commission of Jurists, Geneva, 1998. United Nations special rapporteur of the Commission on Human Rights on Extra Judicial, Summary, or Arbitrary Executions, 1998—2004, on Freedom of Religion or Belief, since 2004.

Trustee Malik Ghulam Jilani Foundation, 1987.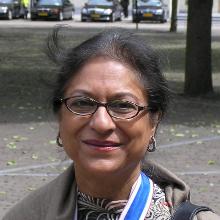 1974

1978

1998

1969

1972

1980

1981

1982

1982

1985 - 1987

1985 - 1987

1986 - 1988

1986

1986

1987 - 1990

1988 - 1990

1988 - 1993

1990 - 1993

1992

1993

1997

1997

1998 - 2004

2004