Career
Mr. Chiao joined the Tungmenghui two years before the establishment of the Republic and engaged in revolutionary work in Shaanxi responded to the revolutionary call to arms in Xi'an, (capital of Shaanxi). During the 1911 Revolution and upon establishment of the Republic, was elected member of the Shaanxi provincial assembly and concurrently director of general affairs in the Headquarters of Tutuh of Shaanxi in 1912. Chiao I-tang was elected member of the first Parliament in Peking in 1913.

When Yuan Shih-kai launched his Monarchial Movement, Mr. Chiaoleft Peking for Shaanxi and there organised an expeditionary army against Yuan. Upon failure of his plan, he escaped to Shanghai and when the Parliament was reconvoked after Yuan's death, he was commissioned by the Kuomintang to Peking to observe the Peking Government. When the Parliament was for the second time illegally dissolved, Mr. Chiao went to Canton and there sat on the Extraordinary Parliament which elected Dr. Sun Yat-sen Generalissimo and organised the Constitutional Defense Force.

While in Canton, he was appointed councillor to the Headquarters of the Generalissimo and later special military commissioner to Shaanxi and Henan to plan revolutionary activities in Central China. Later, he came to Tianjin and organised the Military Committee to plan military activities in the North. After the final defeat of 2nd Kuominchun Army, he was appointed by Gen. Chiang Kai-shek Pacification Commissioner to the Army.

Mr. Chiao was elected a reserve member of the Central Executive Committee of Kuomintang in 1927. Then Chiao I-tang became a member of the Legislative Yuan and concurrently chairman of the law drafting Committee of the Yuan member of the examination commission of the Examination Yuan and member of the National Opium Suppression Commission of the National Government. Thereafter he acted as a President of the Supreme Court of the National Government.
Major achievements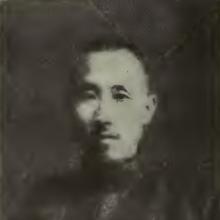 Born 1875
Nationality
Ethnicity: