Career
Professor economics and finance policy faculty political science University Bologna, since 1963. Member National Council Labor Economy, 1960-1974. Economic adviser Indian Government, 1961.

Rector University Calabria, 1971-1975. Senator Christian Democratic Party, 1976, 79. Minister budget and economic planning Government of Italy, Rome, 1979, minister treasury, 1980-1982.

Member Chamber Deputies, 1983, president budget and programming commission, member foreign affairs commission and finance & treasury commission. Minister budget Government of Italy, 1993, minister foreign affairs, 1993-1994, minister defense, since 1996.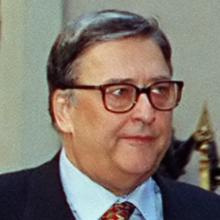 1960 - 1974

1961

1963

1971 - 1975

1976

1979

1980 - 1982

1993

1993 - 1994

1996