Giovanni Spadolini
Giovanni Spadolini, Italian other: government, executive, educator. Decorated officer Legion Honor, Cavaliere di Gran Croce Ordine al Merito della Repubblica; recipient Hemingway Special prize, 1987.
Background
Spadolini, Giovanni was born on June 21, 1925 in Florence, Italy. Son of S. Guido and Leonella Spadolini.
Education
Degree in Law, University Florence.
Career
National Secretary, Partito Repubblicano Italiano (Italian Republican Party) from 1979. Elected Senator, Milan (I), since 1972. Minister for Cultural Heritage 197476.

Founded Group of Republican Senators, 1976. Several times Pres, of Committee on Public Instruction. Pres, of Partito Repubblicano Italiano (Italian Republican Party) Senate Group.

Minister of Public Instruction, in Andreotti government, 1979. First non-D.C, Pres, of the Council, 1981 -82. Also elected Deputy, Milan.

Minister of Defence in 1st and 2nd Craxi government, since 1983. Re-elected Senator, Milan (I). Milan II and Milan IV 1987.

President Regulatory Body. Pres, of the Senate, 1987. Director of TI Resto del Carlino' (1955-1968) (daily).

'Corriere della Sera', (1968-1972). University Professor from 1950. First Professor of Modem History.

Writer for TI Mondo', from 1949. Pres, of'Bocconi' University, Milan. President Central Committee for history studies.

President Tuscan Society for the History of the 'Risorgimento'. National Member, Lombardy Institute of Science and Letters. Director of 'La Nuova Antología' (magazine).

First Signatory of Silone manifesto, 1950, for liberty and culture.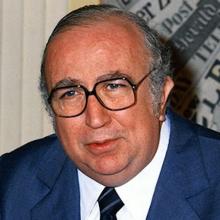 Born June 21, 1925
Nationality
Ethnicity:
1947 - 1950

Writer, Il Messaggero
Rome, New York, United States

1950 - 1952

political editor Gazzetta del Popolo
Turin, Piemonte, Italy

1950 - 1994

professor, contemporary history University Florence


1955 - 1968

with Corriere della Sera


1974 - 1976

minister environmental


1979

minister education


1979 - 1994

secretary, Republican Party


1981 - 1982

prime minister


1983 - 1987

minister defense member

Contributor  
Other Names
Spelling variants for First Name
Spelling variants for Last/Family/Name
Middle Name
Album

Photo
Photo
Photo
Photo
Photo
Photo
Photo
Photo
Photo
Photo
Photo
Photo
Photo
Photo
Photo
Photo
Photo
Photo

College/University
Career

Il Messaggero

Description
Address
mainPhoto

political editor Gazzetta del Popolo

Description
Address
mainPhoto

contemporary history University Florence

Description
Address
mainPhoto

with Corriere della Sera

Description
Address
mainPhoto

minister environmental

Description
Address
mainPhoto

minister education

Description
Address
mainPhoto

prime minister

Description
Address
mainPhoto

Description
Address
mainPhoto

Republican Party

Description
Address
mainPhoto

Awards
Family description
Membership description
Works

Editor: Resto del Carlino, 1955-1968, Corriere della Sera, 1955-1972. Author: Sorel, 1947, Rrealta e Leggenda di una Rivoluzione, 1948, Ritratto dell' Italia moderna, 1949, Lotta socialein Italia, 1949, Il Papato socialista, 1950, L'opposizione cattolica da Porta Pia al '98, 1954, Giolitti e i cattolici, 1960, I radicali dell'Ottocento, 1962, I repubblicani dopo l'Unita, 1962, Un dissidente del Risorgimento, 1962, Firenze Capitale, 1967, Il Tevere piu largo, 1967, Il Mondodi Giolitti, 1969, Il 20 Settembre nella storia d'Italia, 1971, Autuano del Risorgimento, 1971, L'Italia della Ragione, 1979, L'Italia dei Laici, 1980, Senatore della Repubblica, Storia Fiorentina, Carducci nella storia d'Italia.

Link
Works description
mainPhoto

book: Il Papato Socialista

Works description
mainPhoto

book: Il papato socialista
book: Giolitti e i cattolici (1901-1914): La conciliazione silenziosa : con documenti inediti e rari (Italian Edition)

Works description
mainPhoto

book: Giolitti e i cattolici, 1901-1914 (Gli Oscar studio)

Works description
mainPhoto

book: Firenze capitale. Gli anni di Ricasoli.

Works description
mainPhoto

book: Firenze capitale: Gli anni di Ricasoli (Italian Edition)

Works description
mainPhoto

book: Il Tevere piu' largo. Da Porta Pia ad oggi.

Works description
mainPhoto

book: Scritti giornalistici: Raccolta 2. Volume 4. Il Resto del Carlino (Polistampa Grandi Opere) (Italian Edition)
book: Scritti giornalistici: Raccolta 3. Volume 5. Corriere della Sera. 1968-1972 (Polistampa Grandi Opere)

Relatives
Religious beliefs
Views and World outlook
Quotations
Party affiliation description
Favorite Sports & Clubs
Favorite Athletes
Ethnicity details
College/University Description
Favorite Political Figures
Favorite Philosophers & Thinkers
Favorite Music & Bands
Favorite writers
Favorite Artists
Other interests
Personality
Quotes from others about the person
Physical Characteristics
Go
up
Edit Profile