William Birrell Franke
William Birrell Franke, American secretary of the navy. Recipient Patriotic Civilian Service commendation United States Army, 1951, Distinguished Service award Department Defense, 1951; Medal of Freedom, 1961. Member Union League Club (New York City), Army and Navy Club (Washington), Rutland Country Club.
Background
Education
Career
President Securities Company. Special assistant to Secretary of Defense, 1951-1952. Assistant secretary for finance management Navy, 1954-1957, under-secretary, 1957-1959, secretary, 1959-1960.

Business consultant, from 1960. Vice chairman board Fram corporation. President, director Carolina, Clinchfield & Ohio R.R.

Director Penn-Dixie Cement Corporation, Rutland County Bank, Rutland, Vermont.
Major achievements
Connections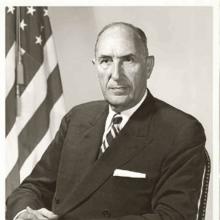 Born April 15, 1894
Nationality
1948

1955

1951 - 1952

1954 - 1957

1957 - 1959