Reinhold Ewald
Reinhold Ewald, German astronaut. Achievements include spending 18 days on board the Mir space station. Recipient Russian Order of Friendship, 1992, Russian medal for Personal Courage, President Boris Yeltsin, 1997, German Federal Cross of Merit (1st class), 1997. Member of Association Space Explorers, German Physics Society.
Education
Career
Research scientist University Cologne, 1983—1987. Extraterrestrial science project manager German Aerospace Center, 1987—1990, coordinator for spaceflight, department planning, 1987—1990. Crew interface coordinator, backup cosmonaut German-Russian MIR'92 mission, 1990—1992.

Deputy head astronaut office German Aerospace Center, 1992—1993, assistant to director space programme, 1993—1995. Research cosmonaut MIR'97 mission, 1995—1997. Member European astronaut corps European Space Agency, Cologne, since 1999.

Part-time lecturer spaceflight operations Technology University Munich, since 1998.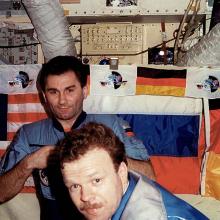 Born
December 18, 1956
(age 60)
Nationality
Ethnicity:
1977

1983

1986

1983 - 1987

1987 - 1990

1990 - 1992

1995 - 1997

1999