Adam Joseph Cardinal Maida
Background
Education
Career
Ordained priest Diocese of Pittsburgh, 1956, associate pastor through vice-chancellor, general counsel, 1956—1984. Ordained bishop, 1984. Bishop Diocese of Green Bay, Wisconsin, 1984—1989.

Archbishop Archdiocese of Detroit, 1990—2009, archbishop emeritus, since 2009. Elevated to cardinal, 1994. Cardinal-priest Ss. Vitale, Valerian, Gervasio & Protasio, since 1994.

Superior Cayman Islands, Antilles, since 2000. Past assistant professor theology, LaRoche College. Past adjunct professor, Duquesne University School Law.

Member Congregation for Catholic Education, Congregation for the Clergy, Pontifical Council for Interpretation of Legislation Texts, Pontifical Council for Pastoral Care of Migrants & Itinerant Peoples, Cardinal Commission for the Supervision of the Institute for Works of Religion, Roman Curia.
Major achievements
Membership
Trustee, Basilica of the National Shrine of the Immaculate Conception, Catholic University American, Michigan Catholic Conference, Papal Foundation Philadelphia. Chairman board trustees, Sacred Heart Major Seminary, S.S. Cyril & Methodius Seminary. Member board governor Ave Maria School Law.
Board director National Catholic Bioethics Center. Member of United States Conference Bishops.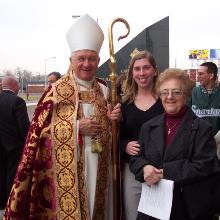 Born March 18, 1930
Nationality
1952

1956

1960

1964

1984 - 1989

1984

1990 - 2009

1994

1994

2009