Patrick Oliphant (Pat Oliphant,Patrick Bruce Oiphant)
Oliphant is an editorial cartoonis.His work has appeared in several exhibitions, most notably at the National Portrait Gallery. He has also crafted a series of small sculptures based on his caricatures of various political figures, which have been displayed alongside his drawings in some exhibitions.
Background
Patrick Oliphant was born July 24, 1935, in Adelaide, Australia. Although his parents, Donald Knox and Grace Lillian, nee Price, encouraged him to draw, Oliphant originally set out to be a journalist.
Major achievements
He won the Pulitzer Prize for Editorial Cartooning in 1967 for his 1 February 1966 cartoon "They Won't Get Us To The Conference Table ... Will They?".

In addition to winning the Pulitzer Prize, Oliphant won the National Cartoonist Society Editorial Cartoon Award seven times.


Works
The Oliphant Book 1969, Four More Years 1973, An Informal Gathering 1978, Oliphant, A Cartoon Collection 1980, The Jellybean Society 1981, Ban This Book 1982, But Seriously Folks 1983, The Year of Living Perilously 1984, Make My Day! 1985, Between Rock and a Hard Place 1986, Up to Here in Alligators 1987.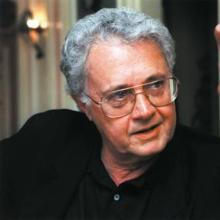 Born July 24, 1935
Nationality
Ethnicity:
1955 - 1964

a copyboy, an editorial cartoonist, Adelaide Advertiser, Adelaide News
Australia, Adelaide

1964 - 1975

editorial cartoonist Denver Post


1975 - 2000

editorial cartoonist Denver Post


2000 - 2000

represented by Susan Conway Gallery
Washington, United States
Award
Recipient 2d Place award as funniest cartoonist International Federation Free Journalists in Fleet St.

London, 1958, Professional Journalism award Sig...

London, 1958, Professional Journalism award Sigma Delta Chi, 1966, Pulitzer prize for editorial cartooning, 1967, Cartoonist of Year award National Cartoonist Society, 1968, 72, Best in Business award Washington Journalism Rev., 1985, 87, Premio Satira Po
Contributor  
College/University
Career

represented by Susan Conway Gallery
Adelaide Advertiser, Adelaide News
editorial cartoonist Denver Post
editorial cartoonist Denver Post

Address
Membership description
Works

The Oliphant Book 1969, Four More Years 1973, An Informal Gathering 1978, Oliphant, A Cartoon Collection 1980, The Jellybean Society 1981, Ban This Book 1982, But Seriously Folks 1983, The Year of Living Perilously 1984, Make My Day! 1985, Between Rock and a Hard Place 1986, Up to Here in Alligators 1987.

School and college years description
Personality
Quotes from others about the person
Physical Characteristics
Go
up
Edit Profile