Jacques Michel Pierre Chaban-Delmas
Jacques Pierre Michel CHABAN-DELMAS, French Deputy. Commander of the Legion of Honour; Companion of the Liberation; Military Cross 1939-1945; Resistance Rosette; Commander of Virtuti Militari (Poland); Commander of the Legion of Merit of the United States; Commander of the Order of Leopold II (Belgium); Commander of the Order of Isabella the Catholic (Spain); Sash of the Yugoslav Star.
Background
CHABAN-DELMAS, Jacques Pierre Michel was born on March 7, 1915 in Paris, France. Parents: Pierre Delmas and Georgette Delmas (née Barrouin).
Education
Lakanal High School; Faculty of Law, Paris, first degree. Independent School of Political Sciences, diploma. Second degree in political economy and public law.
Career
Attaché, Ministry of Industrial Production, 1941. Deputy, 1946; Treasury Inspector, 1943. Member of military delegation of provision government of French Republic, 1943.

National Military Delegate, responsible for nationwide military coordination, 1944. Brigadier, 1944; Head of Army General Inspectorate, 1944. Treasury Inspector, 1945.

Secretary-General of Ministry of Information, 1945-1946. Honorary Brigadier, 1946. Treasury Inspector on detachment, 1946.

Deputy for Gironde, 194661. Mayor of Bordeaux, since 1947. Chairman, 1967, then 1st Vice-Chairman, Council of Urban Community of Bordeaux, 1977.

Chairman and Managing Director, Saemico (mixed economy construction company), 1970. Ex-Chmn., Social Republican Group, National Assembly. Minister of Public Works under Mendès-France, 1954, resigned and resumed post, 1954-1955.

Minister of State under Guy Mollet, 1956-1957. Minister of National Defence under Félix Gaillard, 1957-1958. Member of central committee of Union for the New Republic, 1958.

Re-elected Deputy UNR for Gironde, 2nd constituency. Bordeaux III and IV, 1959-1970. Re-elected Deputy for Bordeaux, following partial election.

1970; Chairman of National Assembly, 1958-1969. Chairman of Commission for Regional Economic Development (Coder), for Aquitaine, 1964, resigned 1969. Prime Minister, 1969-1972.

Treasury Inspector, 1973. Deputy Rassemblement pour la République (Rally for the Republic) for Gironde, since 1973. Chairman of National Assembly, 197881 and 1986-1988.

Candidate for President of the Republic, 1974. Chairman of Regional Council for Aquitaine, 1974-1979 and 1985-1988. Journalist, l'Information, 1933.
Works
/ / French history / Frans / French / Français / Französisch / paperback / 11 x 18 cm / 309 .
Author: L'ardeur, 1975, Charles de Gaulle, 1980, La Liberation, 1984, les Compegnons, Le Dame d'Aquitaine, 1986-1987.
Personality
Interests
Tennis (1965 mens doubles finalist in national championship, veteran mens doubles champion in French Internationals, 1970. Rugby (ex-international), golf.
Connections
Married Odette Hamelin (divorced). Children: Valerie, Christian, Christian. Married Marie-Antoinette Ion (deceased).

1 child Jean-Jacques. Married Micheline Chavelet, September 24, 1971.

father: Pierre Delmas Chaban-Delmas

mother: Georgette (Barrouin) Chaban-Delmas

spouses: Odette Hamelin

Marie-Antoinette Ion

Micheline Chavelet

children: Valerie Chaban-Delmas

Christian Chaban-Delmas

Christian Chaban-Delmas

Jean-Jacques Chaban-Delmas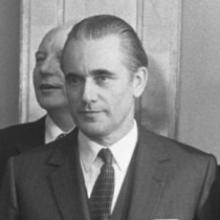 Born March 7, 1915
Died
November 10, 2000
(aged 85)
Nationality
1937

Ecole Libre des Sciences Politques

1944

National military delaware


1944

inspector general French Army


1945

secretary, general Ministry Information


1946

radical deputy
Gironde, Midi-Pyrenees, France

1953 - 1956

leader, Gaullist Group National Assembly


1954 - 1955

minister


1956 - 1957

inspector


1957 - 1958

minister National Defense


1958 - 1969

president, National Assembly


1969 - 1972

prime minister


1973 - 1987

inspector general


1974 - 1979

president, National Assembly


1974

candidate for president, France


1978 - 1981

president, National Assembly

Contributor  
First Name
Other Names
Spelling variants for First Name
Spelling variants for Last/Family/Name
Middle Name
Activities

French government official and politician
Deputy
politician

Album
College/University

Ecole Libre des Sciences Politques

Career

mayor Bordeaux

Description
Address
mainPhoto

radical deputy

Description
Address
mainPhoto

National military delaware

Description
Address
mainPhoto

inspector general French Army

Description
Address
mainPhoto

general Ministry Information

Description
Address
mainPhoto

Gaullist Group National Assembly

Description
Address
mainPhoto

minister

Description
Address
mainPhoto

inspector

Description
Address
mainPhoto

minister National Defense

Description
Address
mainPhoto

National Assembly

Description
Address
mainPhoto

National Assembly

Description
Address
mainPhoto

National Assembly

Description
Address
mainPhoto

Development of Aquitaine

Description
Address
mainPhoto

ities

Description
Address
mainPhoto

prime minister

Description
Address
mainPhoto

inspector general

Description
Address
mainPhoto

France

Description
Address
mainPhoto

Awards
Membership description
Works

Author: L'ardeur, 1975, Charles de Gaulle, 1980, La Liberation, 1984, les Compegnons, Le Dame d'Aquitaine, 1986-1987.

Link
Works description
mainPhoto

book: Histoire de la France: Des Bourbons à Charles de Gaulle (Volume 2)
book: Charles de Gaulle

Works description
mainPhoto

Relatives

Valerie Chaban-Delmas
Christian Chaban-Delmas
Christian Chaban-Delmas
Jean-Jacques Chaban-Delmas
Georgette (Barrouin) Chaban-Delmas
Odette Hamelin
Marie-Antoinette Ion
Micheline Chavelet
Pierre Delmas Chaban-Delmas

Religious beliefs
Views and World outlook
Quotations
Party affiliation description
Favorite Sports & Clubs
Favorite Athletes
Ethnicity details
College/University Description
Favorite Political Figures
Favorite Philosophers & Thinkers
Favorite Music & Bands
Favorite writers
Favorite Artists
Personality
Quotes from others about the person
Physical Characteristics
Go
up
Edit Profile