Edward Follansbee Noyes
Edward Follansbee Noyes was a military man, governor and diplomat.
Background
Noyes, Edward Follansbee was born on October 3, 1832 in Haverhill, Massachusetts, United States. Son of Theodore and Hannah (Stevens) Noyes.
Education
Graduate Dartmouth, 1857. Graduate Law School, Cincinnati College, 1858.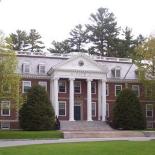 Career
During the Civil War in the United States (1861-1865) Noyes served in the Union army, helped raise and became a major in the 39th Ohio Volunteer Infantry. Unfortunately, he was badly wounded at the battle near Ruff's Mills in 1864. After the war was over Noyes became involved in politics. He worked as a probate judge of Hamilton County. In 1871 he was elected to the post of governor of Ohio which he held until 1874. He was sent to France as the United States minister in 1877. In 1881, Noyes returned to Cincinnati. He continued to be involved in Republican Party politics in Ohio throughout the 1880s.
Connections
Married Margaret Proctor, February 15, 1863, 1 son.

father: Theodore Noyes

mother: Hannah (Stevens) Noyes

Wife: Margaret W. Proctor

Noyes married Margaret W. Proctor at Kingston, New Hampshire in February, 1863
Born October 3, 1832
Died
September 4, 1890
(aged 57)
Nationality
1853 - 1857

Dartmouth College, Hanover, New Hampshire, United States

1857 - 1858

Cincinnati Law School

1861 - 1865

first major, regiment's colonel, brigadier general, Union Army
United States

1866 - 1871

probate judge, Court
Hamilton County

January 8, 1872 - January 12, 1874

Governor of Ohio, Government
Ohio, United States

1877 - 1881

United States Minister to France (ambassador), Ministry of Foreign Affairs
Paris, France, France
Contributor  
College/University

Dartmouth College, Hanover, New Hampshire, United States
Cincinnati Law School

Career

Union Army
Court
Government
Ministry of Foreign Affairs

Location
Address
mainPhoto

Address
Family description
Background
Membership description
Relatives
School and college years description
Personality
Quotes from others about the person
Physical Characteristics
Relatives
Go
up
Edit Profile