Vickie Lynn Hogan (Vickie Marshall, Anna Nicole Smith)
Vickie Lynn Hogan, known briefly as Vickie Smith, before settling on Anna Nicole Smith as her moniker, was an American model, actress and television personality. Smith first gained popularity in Playboy, becoming the 1993 Playmate of the Year. She modeled for clothing companies, including Guess jeans and Lane Bryant.
Background
Her highly publicized second marriage to oil business mogul J. Howard Marshall, 62 years her senior, resulted in speculation that she married the octogenarian for his money, which she denied. Following Marshall's death, Smith began a lengthy legal battle over a share of his estate; her case, Marshall v. Marshall, reached the U.S. Supreme Court on a question of federal jurisdiction and again on a question of bankruptcy court authority (now called Stern v. Marshall).

She died on February 8, 2007 in a Hollywood, Florida hotel room as a result of an overdose of prescription drugs. Within the final six months of her life, Smith was the focus of renewed press coverage surrounding the death of her son, Daniel and the paternity and custody battle over her newborn daughter Dannielynn.
Education
At Mexia High School, Anna Nicole failed her freshman year. She later quit school during her sophomore year and was married in 1985.
Career
Smith secured a contract to replace supermodel Claudia Schiffer in the Guess jeans ad campaign in a series of sultry black and white photographs. Guess capitalized on Smith's strong resemblance to Jayne Mansfield and put her in Jayne-inspired photo sessions. In 1993, before Christmas, she modeled for the Swedish clothing company Hennes & Mauritz (H&M). She appeared on big posters in Sweden and Norway.

Actress:

(films)

Naked Gun 33 1/3: The Final Insult, 1994,

The Hudsucker Proxy, 1994,

To the Limit, 1995,

Skyscraper, 1997,

Illegal Aliens, 2006;

(TV series)

The Anna Nicole Smith Show, 2002-04;

(TV appearance)

Veronica's Closet, 1999,

Ally McBeal, 1999;

co-producer

Anna Nicole Smith: Exposed, 1988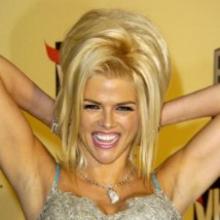 Born November 28, 1967
Died
February 8, 2007
(aged 39)
Nationality
1992

Model, Playboy centerfold

Award
Named Playmate of the Month

Playboy magazine, 1992, Playmate of the Year, 1993

Golden Raspberry - Naked Gun 33 1/3 The Final Insult

Award for the worst new actress in 1995.
Contributor  
Career

Playboy centerfold appearance
Playmate of the Year
Playboy centerfold appearance, 1992
Awards

Golden Raspberry - Naked Gun 33 1/3 The Final Insult
Go
up
Edit Profile