Background
Career
Daniel Voorhees was admitted to the bar in 1850, and began to practice in Covington, Indiana, whence in 1857 he removed to Terre Haute.

Voorhees was a member of the powerful Finance Committee throughout his service in the Senate, and his first speech in that body was a defence of the free coinage of silver and a plea for the preservation of the full legal tender value of greenback currency. He had an active part in bringing about the building of the new Congressional Library.

In 1893, Voorhees came in for serious controversy when President Grover Cleveland called Congress into extra session to repeal the silver purchase clause of the 1890 Sherman Act. As chair of the Senate Finance Committee, the senior senator from Indiana could prevent action, and three years before, he had stood among the leading supporters for an unlimited coinage of silver. His views, in fact, had not changed.

Vooorhees delivered his last speech in the Senate in January 1896, a plea on behalf of silver coinage and denouncing the tariff protectionists and centralizers of government power.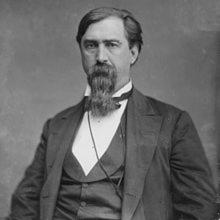 Born September 26, 1827
Died
March 4, 1897
(aged 69)
Nationality
Ethnicity: