Randy Jirtle
Randy Jirtle, American medical educator, geneticist. Recipient Distinguished Achievement award, University Wisconsin-Madison, 2006; grantee, National Institutes of Health, 2003, since 2004, Department of Energy, since 2005. Member of Society Toxicology (associate), Federation American Societies Experimental Biology (associate), American Society Human Genetics (associate), American Association Cancer Research (associate).
Background
Education
Major achievements
Achievements include discovery of imprinted IGF2R as a tumor suppressor gene. Discovery of CALLIPYGE gene that results in hypertrophy of fast twitch muscles. Discovery of maternal methyl supplementation during pregnancy can alter adult disease susceptibility of the offspring by methylating the epigenome.

Development of definition of subsets of imprinted genes in the mouse and human genomes. Patents in field.
Works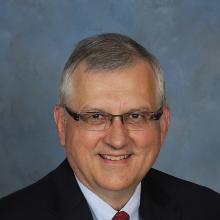 Born
November 9, 1947
(age 70)
Nationality