John W. Murphy
John W. Murphy, American foundation executive. Recipient Distinguished Citizen award University Arizona, 1986, Outstanding Philanthropy award National Society Fundraising Executives, Philanthropic Partnership award Arizona State University, 1985. Vice president North Center Phoenix Homeowners, since 1994; chairman History District Commission, Borough of Rocky Hill, New Jersey, 1979-1981. Member Phoenix Country Club, Plaza Club.
Background
Career
Assistant director information services Marshall University, Huntington, West Virginia, 1957-1959. Director public information Monticello College, Alton, Illinois, 1959-1961. Director public Lehigh University, Bethlehem, Pennsylvania, 1962-1972.

Program officer Robert Wood Johnson Foundation, Princeton, New Jersey, 1972-1981. Executive director The Flinn Foundation, Phoenix, since 1981. Board directors Conference Southwest Foundations, Corpus Christi, Texas, president.

Chairman, board directors Grantmakers in Health, New York City, Partnership for Children.
Works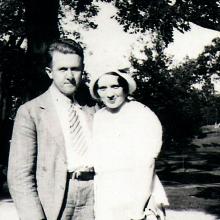 Born September 27, 1937
Nationality
1959

1962

1957 - 1959

1959 - 1961

1962 - 1972

1972 - 1981

1981