Background
Education
AB, Rutgers University, 1955. Juris Doctor, Rutgers University, 1958. Doctor of Laws (honorary), Rutgers University, 1995.

Doctor of Humane Letters (honorary), Mount Vernon College, 1984. Doctor of Laws (honorary), Richard Stockton State College, 1994. Doctor of Laws (honorary), Glassboro State College, 1992.

Associate of Arts (honorary), Cumberland County College, 1994. AS (honorary), Atlantic Cape Community College, 2004.
Career
Partner Loveland, Hughes & Garrett, Ocean City, New Jersey, 1968-1978. 1st assistant prosecuting attorney Cape May County, 1960-1970. Member 94th-103rd Congresses from 2d New Jersey district, Washington, 1974-1995.

Ambassador to Panama United States Department State, 1995-1998. Clifford P. Case professor public affairs Rutgers University, 1997, professor, 1999—2003. Distinguished scholar ethics public policy Richard Stockton College New Jersey, Pomona, since 1999.

Of counsel Riker, Danzig, Scherer, Hyland & Perretti, LLP, since 2000.
Membership
Founder William J. Hughes Center for Public Policy, Richard Stockton College. Board governors Shore Memorial Hospital, Somers Point, New Jersey, 1972—1976. Board trustees Shore Memorial Hospital Foundation, since 2001, Ocean City Tabernacle Association, since 2002.
Board directors South Jersey Industries, South Jersey Gas, since 2002. Vice president Franklin Center for Global Policy, 2007, director, 2007. Fellow American Bar Foundation.
Member American Bar Association, New Jersey Bar Association, Ocean City History Society (board director 1972-1976), Ocean City Chamber of Chamber (board director since 1960), Exchange of Ocean City Club (president 1965-1966, National Big E. award 1965), Masons (master lodge, Worshipful Master 1969).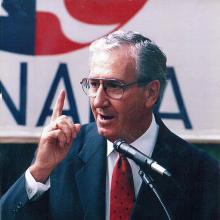 Born October 17, 1932
Nationality
1955

1958

1995

1984

1994

1992

1994

2004

1960 - 1970

1968 - 1978

1974 - 1995

1995 - 1998

1999