Background
Blair was born in Caroline, New York, in a log cabin built by his father George Blair. Until he was 17 years old he helped his father at the farm in Oswego, New York in Tioga County, New York of Eaton County in 1842.

He moved back to Jackson in 1844 and was a Whig member of the Michigan State House of Representatives from Jackson County from 1846 to 1849. He served on the House Judiciary Committee. He also introduced legislation to allow black citizens the right to vote.

n February 1849, Blair married Sarah L. Ford. Together they had four sons. He was elected Jackson County prosecutor in 1852 and participated in organizing the Republican Party in 1854.He served in the Michigan Senate from 1855 to 1856.He was also elected Governor of Michigan in that year and reelected in 1862, serving from 1861 to 1865.

He served as Civil War Governer.

He died in Jackson and is interred at Mt. Evergreen Cemetery there.
Career
Two years after leaving the Governor's seat, Austin Blair was elected to the U.S. House representing Michigan's 3rd congressional district from 1867 to 1873. He was not a candidate for re-election in 1872, but unsuccessfully ran as the Liberal Republican candidate for Governor. He returned to Jackson to resume a private law practice. He was a member of the University of Michigan

board of regents from 1881 to 1889. In 1883, Blair was nominated for

Justice of the Michigan Supreme Court Republican party, but was defeated.
Major achievements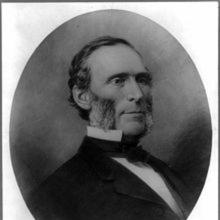 Contributor  
Nationalities
School

Cazenovia Seminary
Hamilton College

College/University

Union College

Finish date
present
Main photo

Oswego (New York ) State University

Career

Eaton County
the House Judiciary Committee

Address
Family description
General Info
Background
Membership description
Relatives

Sarah L. Ford
Sarah Ford
Rhoda (Blackman) Blair

School and college years description
Career Description
Personality
Quotes from others about the person
Physical Characteristics
Go
up
Edit Profile