Peter Goelet Gerry
Peter Goelet Gerry, American investment company executive. Trustee Rensselaerville Institute, New York, 1975, Trotting Horse Museum, Inc., Goshen, New York, since 1976; Member of New York Venture Capital Forum (director), National Venture Capital Corporation, National Association Small Business Investment Companies (governor since 1980).
Background
Education
Career
Trainee Brown Brothers Harriman, New York City, 1970—1971. Investment manager Citicorp Venture Capital, 1973—1978, vice president, 1978—1983, president, since 1983. Director Burkhart Petroleum Company, American Exploration Company, Pond Hill Homes Ltd.

To lieutenant (junior grade) United States Navy, 1968-1970.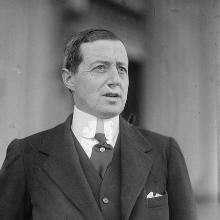 Born
September 23, 1945
(age 72)
Nationality