Background
Gross was born in Middletown, Ohio, the son of Shirley (Tait), a homemaker, and Sewell Mark Gross, a sales executive for AK Steel Holding. Part of his family is originally from Winnipeg, Canada. He was raised a Presbyterian.He moved with his parents to San Francisco in 1954.

Gross is married to Sue J. Gross. They have one child together and Bill has two children from a previous marriage.
Career
Gross graduated from Duke University in 1966 with a degree in psychology. At Duke, he joined Phi Kappa Psi. He then served in the Navy and earned an MBA from the UCLA Anderson School of Management in 1971. Gross briefly played blackjack professionally in Las Vegas, Nevada, and has said that he applies many of his gambling methods for spreading risk and calculating odds to his investment decisions. He is also a CFA Charterholder, earning his credentials while working as an investment analyst for Pacific Mutual Life between 1971 and 1976.

Gross manages one of the world's largest mutual funds, focusing mostly on bonds. Called "the nation's most prominent bond investor" by the New York Times, he co-founded Pacific Investment Management (PIMCO) and currently manages PIMCO's Total Return fund (the world's largest bond fund) and several smaller ones.

In the 1990s he authored two popular-market books on investing, Bill Gross on Investing and Everything You've Heard About Investing is Wrong. In September 2008, by holding large positions in agency backed mortgage bonds of Fannie Mae and Freddie Mac, Gross's funds netted U.S. $1.7 billion after the Federal takeover of Fannie Mae and Freddie Mac for which he had lobbied.

According to Forbes, in 2011, he is the 564th richest person in the world, with a net worth of $2.1 billion.
Major achievements
In 2005, Gross donated $23.5 million to Duke University, $20 million of which was set aside for financial aid.

In 2006, Gross donated to Doctors Without Borders/Médecins Sans Frontières the $9.1mm that he earned from the auction at Shreves Philatelic Galleries of his British philatelic collections. Over the years, Gross has become the largest donor in history to Doctors Without Borders at approximately $25mln. His Scandinavian and Finnish collections were sold by Spink auction house in May 2008 to make a donation to Jeffrey Sachs Millennium Villages Project at Columbia University. Gross and his wife also donated $20mm to Hoag Memorial Hospital Presbyterian for women's health and $10mm to the University of California, Irvine for stem cell research.
Personality
Interests
Gross is also a prominent stamp collector. As of November 2005, he became the third person to form a complete collection of 19th century United States postage stamps. In October 2005, he purchased at auction for $2.97 million a unique plate block of the famous 1918 24-cent U.S. airmail stamps known as the "Inverted Jenny," featuring an engraving of a Curtiss JN-4 biplane printed upside-down. He then traded the Inverted Jenny Plateblock to Donald Sundman, President of Mystic Stamp Company, a stamp dealer, for a 1-cent 1868 "Z Grill" depicting Benjamin Franklin, thus completing Gross's 19th century collection.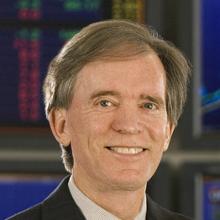 Born
April 13, 1944
(age 73)
Nationality
1966

1971

1971 - 1973

1982

1982
Award
Named one of Forbes 400: Richest Americans

2006 Co, The World's Most Powerful People, Forb...

2006 Co, The World's Most Powerful People, Forbes magazine, 2009, The Top 25 Market Movers, United States News & World Report, 2009, Business People of Year, Fortune magazine, 2010

recipient Fixed Income Manager of Year

Morningstar, 1998, 2000, 2007, Distinguished Se...

Morningstar, 1998, 2000, 2007, Distinguished Service award, Bond Market Association, 2000