Education
Career
Icahn began his career on Wall Street as a stockbroker in 1961 and in 1968, he formed Icahn & Co., a securities firm that focused on risk arbitrage and options trading. In 1978, he began taking controlling positions in individual companies.He has taken substantial or controlling positions in various corporations including RJR Nabisco, TWA, Texaco, Phillips Petroleum, Western Union, Gulf & Western, Viacom, Uniroyal, Dan River, Marshall Field's, E-II (Culligan and Samsonite), American Can, USX, Marvel Comics, Revlon, Imclone, Federal-Mogul, Fairmont Hotels, Blockbuster, Kerr-McGee, Time Warner, Netflix, Motorola, and Herbalife.

Apprentice broker Dreyfus Corporation, New York City, 1960-1963. Options manager Tessel, Patrick & Company, 1963-1964, Gruntal & Company, 1964-1968. Chairman, president Icahn & Company, New York City, 1968—2005.

Chairman board Starfire Holding Corporation (formerly Icahn Holding), since 1984. Chairman American Car and Foundry Industries Incorporated, St. Charles, Missouri, since 1984. Chairman, president, Chief Executive Officer Trans World Airlines Incorporated, New York York City, 1985—1993.

Founder Icahn Capital Incorporated, since 1987. Chairman board American Property Investors Incorporated, since 1990, American Railcar Industries, since 1994, Maupintour Holdings, LLC, 1998—2002. President Stratosphere Corporation, 1998—2004.

Chairman board Great Britain Holdings, 2000—2007, XO Holdings, Incorporated (formerly XO Communications), since 2003, ImClone Systems Incorporated, 2006—2008. Board directors Starfire Holding Corporation, since 1984, Cadus Pharmaceutical Corporation, since 1993, American Railcar Industries Incorporated, since 1994, Blockbuster Incorporated, since 2005, WestPoint International, Incorporated, since 2005, ImClone Systems Incorporated, 2006—2008, Western Climate Initiative Communities, Incorporated, since 2007, Yahoo! Incorporated, 2008—2009, Motricity, Incorporated, since 2008, Federal-Mogul Corporation, since 2007, non-executive chairman, since 2008. Served in United States Army, 1960-1961.
Personality
Icahn was fond of boxing at school. However, the main hobby of his life became poker. Once on the beach in Long Beach, he won more than a thousand dollars, which is enough to pay for training at Princeton University.
Quotes from others about the person
Fellow finance billionaire Leon Black says "He loves winning, and he loves money–but it's just a scorecard to show he's recognized value and won. He is smart and unrelenting, he doesn't care what other people think, and even though he is not always right, I would never bet against him."
Interests
Collector Old Masters and Impressionist art.

His many charitable interests focus primarily on medicine, education and child welfare.
Connections
Icahn has been married twice.

In 1979, he married Liba Trejbal, a ballerina from the former Czech Republic. They divorced in 1999 after years of litigation. Liba had sought to invalidate a prenuptial agreement she had signed prior to their marriage claiming duress as she was pregnant at the time. Liba originally fought Icahn's offer of roughly $1.5 million a year because he was worth billions at the time and eventually settled for an undisclosed amount. They have two children, one of whom is Brett Icahn.

In 1999, he married his longtime assistant and former broker, Gail Golden. She has two children from a prior marriage.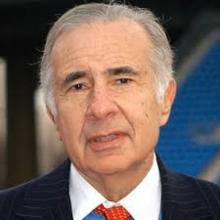 Born February 16, 1936
Nationality
1957

2007

1960 - 1963

1963 - 1964

1964 - 1968

1968 - 2005

1968 - 2005

1984

1984

1985 - 1993

1985 - 1993

1985 - 1993

1987

1990

1994

1998 - 2002

1998 - 2004

2003

2006 - 2008
Contributor  
Other Names
Spelling variants for First Name
Spelling variants for Last/Family/Name
Middle Name
Gender
Album
College/University

Princeton University
New York University School Medicine

Career

American Car and Foundry Industries Incorporated

Description
Address
mainPhoto

Dreyfus Corporation

Description
Address
mainPhoto

Tessel

Description
Address
mainPhoto

Tessel

Description
Address
mainPhoto

Icahn & Company

Description
Address
mainPhoto

Icahn & Company

Description
Address
mainPhoto

board Starfire Holding Corporation (formerly Icahn Holding)

Description
Address
mainPhoto

Trans World Airlines Incorporated

Description
Address
mainPhoto

Trans World Airlines Incorporated

Description
Address
mainPhoto

Trans World Airlines Incorporated

Description
Address
mainPhoto

founder Icahn Capital Incorporated

Description
Address
mainPhoto

board American Property Investors Incorporated

Description
Address
mainPhoto

board American Property Investors Incorporated

Description
Address
mainPhoto

board American Property Investors Incorporated

Description
Address
mainPhoto

Stratosphere Corporation

Description
Address
mainPhoto

board Great Britain Holdings

Description
Address
mainPhoto

board Great Britain Holdings

Description
Address
mainPhoto

board Great Britain Holdings

Description
Address
mainPhoto

Awards
Address
Relatives

Brett Icahn
Michelle Icahn
Liba Icahn
Gail Golden

Person Photo
Religious beliefs
Views and World outlook
Quotations
Party affiliation description
Favorite Sports & Clubs
Favorite Athletes
Ethnicity details
College/University Description
Favorite Political Figures
Favorite Philosophers & Thinkers
Favorite Music & Bands
Favorite writers
Favorite Artists
Personality
Quotes from others about the person
Physical Characteristics
Personality
Quotes from others about the person
Place
Other interests
Album
Relatives

Brett Icahn

Activities

an American businessman and investor

Photo

Place
Official titles

Financier, entrepreneur, and airline executive

Awards
Career Description
References

com.htp.peoplebook.domain.object.PublicationAbout@1f

References

com.htp.peoplebook.domain.object.PublicationAbout@1f

References

com.htp.peoplebook.domain.object.PublicationAbout@1f

Album
Relatives
Album
Relatives

Liba Icahn

Nationality
Activities
Photo

Relatives
Relatives
Album
Relatives
References

com.htp.peoplebook.domain.object.PublicationAbout@1f

Family description
Family description
Go
up
Edit Profile