Loranne AUSLEY
She is a politician and attorney from Tallahassee, Florida.
Ausley ran for Chief Financial Officer of Florida in 2010. She became the Democratic nominee by default when no other candidates filed for the election and faced State Senate President Jeff Atwater, the Republican nominee, in the general election.
She is a marathon runner and triathlete
Connections
father: DuBose

Ausley's grandfather was Charles S. Ausley, Florida Senate and her great-great-grandfather was Alexander McSwain a member of the Florida House 1891. Her father is Tallahassee attorney and past Chairman of the State University System of Florida, DuBose Ausley. Her mother is Sallie Ausley, co-founder of the Red Hills Horse Trials.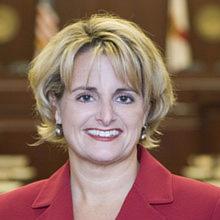 Born
October 16, 1963
(age 53)
Nationality