Background
Career
Member bureau of interpretations of foreign affairs at Versailles, 1781-1787. Went to England as acting secretary of legation to secure information useful for treaty of commerce between Great Britain and France, 1783. Secretary to Comte de Segur, minister to Court of Catherine II, 1787.

Expelled from Russia, June 1792. Went on temporary mission to Geneva, summer 1792. 1st French minister plenipotentiary to the United States, 1793-1794.

Unsuccessfully tried to get United States aid for France in war with England, and to take Florida and Louisiana from Spain. Commissioned privateers to prey on British commerce and to intrigue against Spanish territory (Jeffersonians wished to support his work, but Washington was strongly against war with Britain). Disregarded Washington's request to stop these activities (feeling that Jeffersonians would support him).

His recall requested by Washington, 1794. Replaced as minister, 1794, but remained in the United States and settled in New York State.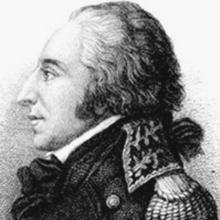 Born January 8, 1763
Nationality
Ethnicity:
Contributor  
Other Names
Spelling variants for First Name
Spelling variants for Last/Family/Name
Middle Name
Career

French embassy in Berlin
Government

Address
Relatives

Marie Ann Louise (Cardon) Genet
Cornelia Clinton
Martha Osgood
Edme Jacques Genet

Religious beliefs
Views and World outlook
Quotations
Party affiliation description
Favorite Sports & Clubs
Favorite Athletes
Ethnicity details
Favorite Political Figures
Favorite Philosophers & Thinkers
Favorite Music & Bands
Favorite writers
Favorite Artists
Other interests
Personality
Quotes from others about the person
Physical Characteristics
Go
up
Edit Profile