Career
Teacher information technical and mathematics French Lycée, New York City, 1979—1981. Chairman, Chief Executive Officer Forma Systémes, 1981—1986. Chief advisor of Minister for Information and New Technology French Ministry of Education and Research, 1986—1988.

Chief Executive Officer Futuroscope de Poitiers, 1986—1990, Futuroscope Telecommunications Platform, 1986—1990, Consultants to Government and Industry Group, 1990—1993. Chief Executive Officer, vice chairman board directors BULL Group, 1993—1997. Chairman, Chief Executive Officer Thomson S.A., 1997—2002, Thomson Multimedia, 1997—2002, France Telecom, Paris, 2002—2005.

Minister economic affairs, finance & industry Government France, 2005—2007.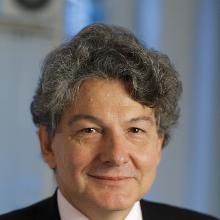 1979

1979 - 1981

1981 - 1986

1981 - 1986

1986 - 1988

1986 - 1990

1986 - 1990

1990 - 1993

1993 - 1997

1993 - 1997

1997 - 2002

1997 - 2002

1997 - 2002

1997 - 2002

2002 - 2005

2002 - 2005

2005 - 2007