Zedekiah Kidwell
Zedekiah Kidwell, American congressman. member Va; member United States Ho; member West Virginia.
Background
Kidwell was born in Fairfax, Virginia. His father was a civil engineer.

He moved to Clarksburg, Virginia (now West Virginia) with his father in 1834 where he taught school and clerked in a store.
Education
Kidwell received an English education and studied medicine.

He resumed studying medicine and graduated from Jefferson Medical College in Philadelphia, Pennsylvania in 1839, commencing practice in Fairfax County, Virginia.
Career
From 1861 to the end of the Civil War, he held a civil office in Richmond.
Membership
Member Va; member United States Ho. Member West Virginia.
Virginia Board of Public Works
November 30, 1857 - November 30, 1860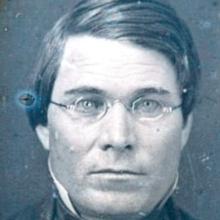 Born January 4, 1814
Died
April 27, 1872
(aged 58)
Nationality
November 30, 1839

Jefferson Medical College

November 30, 1842 - November 30, 1845

Virginia House of Delegates


November 30, 1849

delegate, Virginia Constitutional Convention


November 30, 1853 - November 30, 1857

United States House of Representatives

Contributor  
Career

Virginia House of Delegates
Virginia Constitutional Convention
Pierce and King ticket
United States House of Representatives

Favorite Sports & Clubs
Favorite Athletes
Ethnicity details
School description
College/University Description
Favorite Political Figures
Favorite Philosophers & Thinkers
Favorite Music & Bands
favoriteMusicArtists
Favorite writers
Favorite Artists
Other interests
Career Description
College/University

Jefferson Medical College

Career

Virginia House of Delegates
Virginia Constitutional Convention
United States House of Representatives

Address
Family description
Membership

Virginia Board of Public Works

General Info
Membership description
School description
College/University Description
Personality
Quotes from others about the person
Physical Characteristics
Go
up
Edit Profile