Background
Sandra Bullock was born to Helga Meyer, a German opera singer, and John W. Bullock, a U.S. voice teacher from Alabama. She grew up on the road with her parents and younger sister. She studied music and dance while she traveled throughout Europe, and made her first stage appearance at the age of 5 in a small role for an opera in Nuremburg, Germany. The performance helped her to develop a love of the stage, and she began appearing regularly in the Nuremburg children's choir.
Education
At the school she was a cheerleader and performed in high school theater productions.

After she graduated in 1982, she entered East Carolina University in Greenville, North Carolina. However, she dropped out in her fourth year in spring of 1986, just three credits short of graduating, to become an actress. She moved to Manhattan and supported herself as a bartender, cocktail waitress, and coat checker. She later completed her coursework and graduated from East Carolina University.
Career
Sandra Bullock made her first stage appearance at age of 5 in an opera in Germany. She often performed in the children's chorus of whatever production her mother was in. That singing talent later came in handy for her role as an aspiring country singer in The Thing Called Love (1993). She gave memorable performances in Demolition Man (1993) and Wrestling Ernest Hemingway (1993). She first became widely known for her role in the 1994 hit Speed. She has since starred in many more films, and won an Academy Award for Best Actress and a Golden Globe for her performance in The Blind Side (2009), based on the true-life story of football playerMichael Oher. Her blockbusters The Proposal (2009) and The Heat (2013) made her a bankable star.

In 2013, she starred alongside George Clooney in the critically acclaimed film Gravity.

In the mid-1990s, Bullock appeared in steady stream of big-budget productions of varying commercial success. While films like While You Were Sleeping (1995), The Net (1995) and A Time to Kill (1996) performed well, others such as Two If By Sea (1996) and Speed 2: Cruise Control (1997), were box-office flops. Bullock starred opposite Nicole Kidman the comedy Practical Magic (1998) and opposite Harry Connick Jr. in Hope Floats that same year. In an attempt to expand her dramatic range, Bullock appeared as an alcoholic newspaper columnist sent to rehab, in 28 Days (2000).

The film, a mix of dark comedy and melodrama, received tepid reviews, although her comedy Miss Congeniality (2000) did well at the box office that same year. After a brief hiatus, Bullock returned in early 2002 with Murder by Numbers, a crime thriller in which she plays a detective responsible for tracking down a duo of thrill-killers. During the same year, she also appeared in a film version of the best-selling novel The Divine Secrets of the Ya-Ya Sisterhood and Two Weeks' Notice, a romantic comedy co-starring Hugh Grant.

Dividing her time between comedy and drama, Bullock starred in Miss Congeniality 2: Armed and Fabulous (2005) and the romantic drama The Lake House with Speed co-star Keanu Reeves. She took on some more serious roles with Infamous (2006) and Premonition (2007). In Infamous, she played writer Harper Lee in the Truman Capote drama starring Toby Jones. Bullock starred with Julian McMahon in the domestic thriller Premonition (2007) as a wife and mother who tries to prevent her husband's death after experiencing a vision of his demise.

In 2009, Bullock returned to her romantic comedy roots with two projects. The Proposal featured Bullock as a tough-as-nails boss who must marry her assistant, played by Ryan Reynolds, to avoid being deported, which became a huge box office smash. All About Steve (2009), however, proved to be a critical and commercial dud. In the film, Bullock played a woman who becomes obsessed with a television cameraman, played by Bradley Cooper, after going on a blind date with him.
Religion
"I think, everything works out the way the universe wants it to work out."-Sandra Bullock

Statements like this are typically made by science minded individuals who don't lend credence to the supernatural but feel a sense of spirituality. In the case of Sandra Bullock it is also possible she made her karma-like claim because her box office impact could be negatively impacted if Christians don't believe her to be a God fearing woman.
Denomination: Judaism
Views
Bullock has been a public supporter of the American Red Cross, having donated $1 million to the organization at least four times. Her first public donation of that amount was to the Red Cross's Liberty Disaster Relief Fund. Three years later, she sent money in response to the 2004 Indian Ocean earthquake and tsunamis. In 2010, she donated $1 million to relief efforts in Haiti following the Haiti earthquake, and again donated the same amount following the 2011 Japan Earthquake.
Quotations: "Beginnings are usually scary and endings are usually sad, but it's the middle that counts. You have to remember this when you find yourself at the beginning."-Sandra Bullock

"The key to any good relationship, on-screen and off, is communication, respect, and I guess you have to like the way the other person smells -- and he smelled real nice."-Sandra Bullock

"I love humor. I always will fall back on humor. That's something that I think you can't ever get enough of and, if it's done well, it's great. When it's bad, it's horrible."-Sandra Bullock

"Women are like ovens. We need 5 to 15 minutes to heat up"-Sandra Bullock
Personality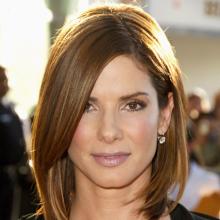 Born
July 26, 1964
(age 53)
Nationality
1978 - 1982

1982 - 1986

1987 - present
Contributor  
Activities
Album

Photo
Photo
Photo
Photo
Photo
Photo
Photo
Photo
Photo
Photo

Background
Views and World outlook
Other interests
Career Description
Go
up
Edit Profile