Background
Midler, Bette was born on December 1, 1945 in Honolulu.
Education
Attended the University of Hawaii at Manoa.
Career
The Rose (79, Mark Rvdell) is not a great film. It offended some people because it was not completely Janis Joplin, because the music was not always "authentic," and because the atmosphere at the concerts was "wrong." No matter. Bette Midler—who was nominated for best actress Oscar in what was really her debut—was remarkable: without ever being conventionally beautiful as movies measure that myth, she was prettv, appealing, sexy, needy, disturbing, anti repellent. There was a commitment to the performance and the singing that legitimately carried the film. To be so good so far out on a limb is a way of indicating how "uncastable" a player may be. Ms. Midler ran into very difficult times from which she has only emerged as a comic, camp gorgon—often very funny, and usually defiantly likeable. But there is a hurt in her cocky grin, as if to sav we have let the rose wither.

She had a small role in Hawaii (65, George Roy Hill), years before The Rose. After that, she worked as singer and comedienne before the great challenge of the Joplin biopic. Thereafter, she did a concert film. Divine Madness (80, Michael Ritchie), and got into much publicized disputes during and after the making of Jinxed! (82, Don Siegel).

For several years she did no film work, and then made a happy return in Down and Out in Beverly Hills (86, Paul Mazursky). This was the start of a run ol films in which she was encouraged to overdo everything: Ruthless People (86, Jim Abrahams, David Zucker, and Jerry Zucker); Outrageous Fortune (87, Arthur Hiller); Beaches (88, Garry Marshall); Big Business (88, Abrahams);

Stella (90, John Erman); and patently ill-matched with Woody Allen in Scenes from a Mall (91, Mazursky). She then took another big role, as the entertainer in For the Boys (91, Rvdell), a call resolutely resisted by audiences. After Hocus Pocus (93, Kenny Ortega), she had a personal success on TV as Rose in Gypsy (93, Emile Ardolino).

Her uneasy relationship with the movies has not altered: she had an uncredited bit in Get Shorty (95, Barry Sonnenfeld); she excelled in The First Wives Club (96, Hugh Wilson) and That Old Feeling (97, Carl Reiner); but Drowning Mona (00, Nick Gomez) did nothing, and with Isn't She Great (00, Andrew Bergman), where she played Jacqueline Susann, it w'as as if the audience had forgotten the woman from history.
Membership
Of cast in Fiddler on the Roof, New York 1966-1969, Salvation, New York 1970, Tommy, Seattle Opera Company 1971.
Connections
Married Martin von Haselberg, 1984. 1 child Sophie.

spouse: Martin von Haselberg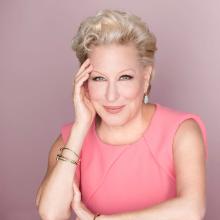 Born
December 1, 1945
(age 71)
Nationality