John Frederick Milius
John Frederick Milius is an American screenwriter, film director and producer.
Background
MILIUS, John was born on April 11, 1944 in St. Louis. Son of William Styx Milius and Elizabeth (nee Roe) Milius. Milins's father was a shoe manufacturer.
Education
When the family moved to California, the child devoted himself to surfing, kendo, Hemingway, Patton, M acArthur, and Teddy Roosevelt. In later years, the study and firing of guns was added to the pantheon. Milius studied film at the University of Southern California and started writing scripts furiously. Many were shelved, but he got a credit on The Peril's 8 (69, Burt Topper), and thereupon used his knowledge of the Vietnam war and his sympathy for tyrant-heroes to write the first version of Apocah/pse Now for Coppola. The dynamic Kilgore sequences in the finished film seem closest to Milius.
Career
Milius rewrote Dirty Harry (71. Don Sieged) and undoubtedly contributed the vigilante fervor that overflowed Siegels customary cynicism; he also worked on Kiel Knievel (71, Marvin Chomsky), another movie that might have benefited from more of Milius s enthusiasm for its subject. He wrote Jeremiah Johnson (72, Svdney Pollack); The Life and Times of Judge Roy Bean (72. John Huston); Magnum Force (73, Ted Post), written with Michael Cimino; and Melvin Purvis—G Man (74, Dan Curtis). Those are four problem pictures: Jeremiah Johnson required more extravagance than Bedford or Pollack could muster. Instead of ecological treatise, it should have been a wilderness legend. Jack London verging on King Ubu. Roy Bean sacrificed madness to whimsicality. Magnum Force was too much a Clint Eastwood vehicle, too little a study of fascism wearing a badge. And Melvin Purvis was a TV7 afterthought to Milius's first feature.

Of the films he has directed, Dillinger is the best: shot with raffish elegance and humor, imaginatively east, and made with the same sardonic bravura that characterized Scaiface. The rivalry of Ben Johnson and Warren Oates is always comic, but never taken too far. The Wind and the Lion is cheerfully fabricated Rooseveltiana, with Sean Connery as a Berber. It's a boys' book of heroes kind of film, a foolish but consistent throwback to forties cinema and earlier imperialist confidence. The flair f or youthful adventure was just as strong in Big Wednesday. a hymn to surfing, and Miliuss least focused narrative.

Over the years, Milius had earned and even provoked the press reputation of a strident, magnum-brandishing reactionary. But he is more than that. He is an anarchist, he is articulate, and he has an unshakable faith in human grandeur that might work very well with a more humdrum topic than he has yet taken on. Film may be too small or ephemeral a passion for him. But he has one great scene already: he helped write the speech Robert Shaw's Quint pronounces on the sinking of the Indianapolis in Jaws (75, Steven Spielberg).

He was also an executive producer on 1941 (79, Spielberg), which he helped write; on Hardcore (79, Paul Schrader); and on Used Cars (80, Robert Zemeckis). A little later, he coproduced Uncommon Valor (83, Ted Kotcheff) and Fatal Beauty (87, Torn Holland), and contributed the story to Extreme Prejudice (87, Walter Hill).

But as a director, Milius has wandered and strayed. If is own great confidence and the lyricism of his heroism have seemed forced. Conan gave a boost to the career of Arnold Schwarzenegger; Flight of the Intruder and Red Dawn were abject and stupid. Farewell to the King is the one interesting project, though it falls far short of its Melville-like potential.

In 1993, Milius could do no more than the script for Gerónimo (Walter Hill). A year later, he wrote Clear and Present Danger (94, Phillip Noyce). His two TV movies repeated earlier, and younger, interests. But they were shown—which is more than happened with Lion's Share.
Connections
Married 1st Renee Fabri in 1967, two son, 2nd Celia K. Burkholder in 1978.

father: William Styx Milius

mother: Elizabeth (nee Roe) Milius

spouse: Renee Fabri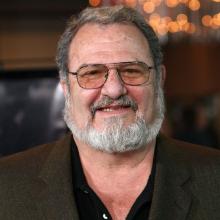 Born
April 11, 1944
(age 73)
Nationality
1967

University Southern California