Background
Education
Career
Employed Library. Congress, Washington, 1947-1964, coordinator public law, 480 programs, 1962-1964. Director Library. East West Center, Honolulu, 1964-1965. Dean Graduate School Library Studies University Hawaii, 1966-1975.

Chief cataloging division Copyright Office, 1975-1980, coordinator copyright collections, 1980. Lecturer graduate School Library. Studies, University Hawaii, 1981-1991.

Volunteer Kaui History Society Library. and Archives, 2001—2008. Chief executive officer Molesworth Institute West, Inc., 1984-1991, chairman, 1991-1996. Fulbright lecturer University Indonesia, 1971.

United States delegate Intergovtl. Conference Planning National Libraries Infrastructures, 1974.
Works
Author: Role of the Library of Congress in International Exchange of Government Publications, 1955, Toshokan Kyoryoku, 1970, Documents of International Organizations, 1974, Japanese and United States Research Libraries at the Turning Point, 1977, Short History of the School of Library and Information Studies, 1991. Contributor articles to professional publications.
Membership
Served to lieutenant United States Naval Reserve, 1943-1946, research 47-68. Member Hawaii Library Association (president 1966-1967), American Library Association (member council 1967-1970, member United States, Japan advisory committee 1972-1979, chairman 1974-1976, Rlms policy and research committee 1977-1981), Associates University Hawaii Library (vice chairman 1981-1984), Japan Library Association, Phi Beta Kappa. Clubs: 15 (Honolulu).
Connections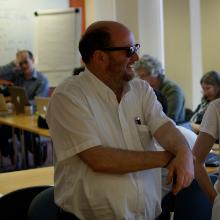 Born August 11, 1921
Nationality
1942

1947

1955

1965

1947 - 1964

1964 - 1965

1966 - 1975

1981 - 1991

1984 - 1991

2001 - 2008