Prince Salm-Salm (Felix Alexander Johann Constatin Nepomuk)
Prince Felix Salm-Salm (1828–1870) was a Prussian military officer of noble birth and soldier of fortune, who served in the Schleswig-Holstein Army (Prussian Army), Austrian Army, the Union Army during the American Civil War, the army of Emperor Maximilian I inMexico and thereafter in the Prussian Army. He was killed in action during the Franco-Prussian War.

He was killed at Battle of Gravelotte during Franco-Prussian War on Audust 18, 1870.
Connections
Wife: Agnes Winona Leclercq Joy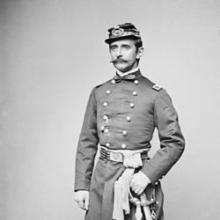 Born December 25, 1828
Died
August 18, 1870
(aged 41)
Nationality
Ethnicity:
1862 - 1864

Colonel, 8th New York Volunteers


1864 - 1865

Colonel, Commander, 68th New York Volunteers


1865 - 1866

military commander, District of Atlanta


1866

chief aide to the emperor, Service of Maximilian
Mexico
Contributor  
First Name
Last/Family/Name
Spelling variants for First Name
Spelling variants for Last/Family/Name
Middle Name
Full name, name spelling variants, pseudonym

Felix Alexander Johann Constatin Nepomuk

School
Career

Service of Maximilian
Prussian cavalry
8th New York Volunteers
68th New York Volunteers
District of Atlanta
Queen Augusta Regiment,Prussian Army

Address
Family description
General Info
Background
Membership description
Relatives

Agnes Winona Leclercq Joy

School and college years description
Personality
Quotes from others about the person
Physical Characteristics
Go
up
Edit Profile