Background
Education
Career
Teacher law and accounting University Detroit, 1953-1956. Assistant prosecuting attorney Wayne County, Michigan, 1956-1964. Private practice law Shaheen, Gribbs & Shaheen, 1964-1966.

Presiding referee Traffic Court, 1966-1968. Sheriff Wayne County, 1968-1969. Mayor of Detroit, 1970-1973.

Partner firm Fenton, Nederlander, Dodge, Barris & Gribbs, 1974. Adjunct professor University Michigan, 1974. Director Bank of Commonwealth, 1974-1975.

Judge Wayne County Circuit Court, 1975-1982, chief judge pro tempore, 1980-1982. Judge Michigan Court Appeals, since 1983. Lecturer Michigan Judicial Institute, since 1980.

Member Presidential Commission Civil Defense Advisory Commission, 1970-1974.
Membership
Trustee University Detroit, 1974-1980. Commissioner Michigan Commission on Inter-governmental Relations, since 1989. Board directors Thomas M. Cooley Law School, since 1991.
Served as sergeant Army of the United States, World World War World War II. Member National League of Cities (president 1973), Michigan Judges Association (board directors since 1978, president since 1992), United States Conference Mayors (trustee), Michigan Conference Mayors (president), Delta Sigma Phi, Blue Key.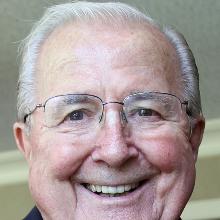 Born December 29, 1925
Nationality
1952

1954

1953 - 1956

1956 - 1964

1964 - 1966

1966 - 1968

1968 - 1969

1970 - 1973

1974

1974

1974 - 1975

1975 - 1982

1980 - 1982

1983