Mary Todd Lincoln
Mary Todd Lincoln was the wife of the sixteenth President of the United States, Abraham Lincoln, and was First Lady of the United States from.
Background
The daughter of Eliza Parker and Robert Smith Todd, Mary was born on December 12, 1813, in Lexington, Kentucky. Her parents, pioneer settlers of Kentucky, were local aristocrats, and while she was growing up, she enjoyed a spirited social life and a private education. She loved dancing, fine clothes, and riding horses. She came in contact with politicians at an early age. Her family was well acquainted with Henry Clay, a famous American statesman who ran for president in 1832, when Mary was fourteen.

After she turned sixteen, Mary moved to Springfield, Illinois, to stay with her married sister, Ninian. Springfield became the state capital at about the same time, and it offered a lively social scene that she enjoyed. She also seemed to be husband-hunting, and she was courted by several suitors, including Stephen Douglas - the man her future husband, Abraham Lincoln, would later face in races for the senate and for the presidency.
Career
When Lincoln was elected president in 1860, she looked forward to being a leader in social circles - Journeying to Washington through twelve states, the Lincolns were greeted by noisy and high-spirited crowds at seemingly every stop, and Mary's spirits were primed for good times ahead. However, Southern states opposed to Lincoln's antislavery views (which Mary shared) had already begun seceding from the Union. The Lincolns entrance into the capital - under tight security and under cover of darkness - was a forbidding omen of things to come.

Lincoln had always been a casual man. As a lawyer in Illinois, he occasionally ended a day in court by placing important documents inside his stovepipe hat for safekeeping. Mary had much more of a formal social sense, and it showed in her elaborate Washington parties - Her years as first lady were marked by shopping sprees (she once bought more than three hundred pairs of gloves in just four months, and she spent $27,000 on "trifles" during 1864 alone); visits to the war wounded in military hospitals; and problems with her temper, which occasionally brought on migraine headaches.
Religion
Mrs. Lincoln was also an adherent of spiritualism, believing the living could be in contact with the dead.
Denomination: Presbyterian
Connections
father: Robert Smith Todd

mother: Eliza Ann Parker

Sister: Elizabeth Todd Edwards

Sister: Ann Todd Smith

brother: Frances Todd Wallace

brother: Levi O. Todd

brother: Robert P. Todd

brother: George Rogers Clark Todd

half-sister: Margaret Todd Kellogg

half-brother: Robert S. Todd

half-brother: Samuel Briggs Todd

half-brother: David H. Todd

half-sister: Martha Todd White

half-sister: Emilie Todd Helm

half-brother: Alexander Todd

half-sister: Elodie Todd Dawson

half-sister: Katherine Todd Herr

16th President of the United States

Son: Robert Todd Lincoln

Son: Edward Baker Lincoln

Son: William

Son: Thomas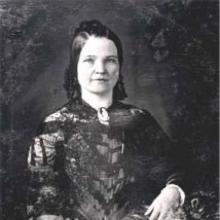 Born December 13, 1818
Died
July 16, 1882
(aged 63)
Nationality
1826 - 1832

Shelby Female Academy

1832 - 1837

Madame Mentelle's Boarding School

1837 - 1839

Doctor Ward's Academy

1861 - 1865

First Lady, White House
Washington
Contributor  
Gender
Death
Nationality
interestingFactsNote
Religious beliefs
Views and World outlook
Quotations
Party affiliation description
Favorite Sports & Clubs
Favorite Athletes
Ethnicity details
School description
College/University Description
Favorite Political Figures
Favorite Philosophers & Thinkers
Favorite Music & Bands
favoriteMusicArtists
Favorite writers
Favorite Artists
Other interests
Career Description
Album
Relatives

Frances "Fanny" Todd Wallace
Alexander "Aleck" Todd
Elodie "Dedee" Todd Dawson
Katherine "Kitty" Todd Herr
William "Willie" Wallace Lincoln
Thomas "Tad" Lincoln
Thomas "Tad" Lincoln
William "Willie" Wallace Lincoln
Katherine "Kitty" Todd Herr
Elodie "Dedee" Todd Dawson
Alexander "Aleck" Todd
Frances "Fanny" Todd Wallace

Person Photo
Place
School

Shelby Female Academy
Madame Mentelle's Boarding School
Doctor Ward's Academy

Career
Address
Membership description
School and college years description
Physical Characteristics
Go
up
Edit Profile