Hasso Plattner
Hasso Plattner co-founded the German software giant SAP with former IBM colleagues. In 2003 he retired after 30 yeas as CEO, and is now Chairman of the Board. Hasso Plattner is regarded as one of the worlds most prominent and influential figures in IT, and is one of Germanys largest philanthropists.
Background
Hasso Plattner was born 21 January 1944 in Berlin, Germany.His father was and is a medical doctor, and he

spent the first fifteen years in Berlin. Then he went to Bavaria, which is quite a move. Went to school in

Switzerland for three years. His grandfather was an engineer for Flor & Otis, and he was a director—technical

director. So from him heI got engineering attitude, what engineering is about, and

kind of perfectionism. Started his studies in electrotechnique in Karlsruhe, close to here,

and after he finished with a degree in electrotechnique, I joined IBM.
Education
Major achievements
Personality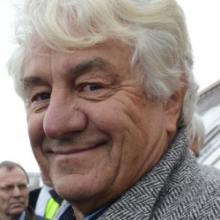 Born
January 21, 1944
(age 73)
Nationality
Ethnicity:
2002

1990

2004

1994

1965 - 1968

1968 - 1972

1972 - May 7, 2003

1998

2003
Contributor  
Album
College/University
Major Achievements

development of software financial packages for corporations, 1972
Co-founding SAP: His technology vision and competitive drive fueled dominance in the world enterprise resource planning market

General Info
Background
Relatives
Person Photo
Party affiliation
Favorite Athletes
School description
Go
up
Edit Profile