Background
Education
Career
Diplomate engineer Aviation Factory I.A.R., Brasov, 1976—1977. Candidate cosmonaut Cosmonaut Training Center Yuri Gagarin, Star City, Russia, 1978—1981. Chief inspector for aero-space activities Military Aviation Command, Bucharest, 1981—1990.

Cief, deputy minister of transportation Department of Civil Aviation, Ministry of Transportation, 1990—1991. Chief inspector for airspace activities Air Force Staff, 1991—1998. President Romanian Space Agency, since 1998.

Co-leader project of reorganisation of the higher education and research institutions in Romania World Bank, Bucharest, 1992—1993. Associate professor Polytechnic University, Bucharest, 1984—1989. Vice-president European Institute for Risk, Security and Communication Management Foundation, Bucharest.

Associate professor Academy of Economic Studies, International Relations Faculty, Bucharest, since 2000. Permanent representative sessions of the United Nations Association of Space Explorers, Vienna, 1993, member executive committee, Houston, 1995—2001. Air fleet general Romanian Air Force, 2000.
Major achievements
Works
Author: (book) Five Minutes After a Space Flight, (science book) Psychologic Dimenssions of the Airspace Flight. Contributor book History of the Romanian Aviation. Author: Airspace Studies.

Main guest (scientific radio and tv shows). Author: (book) Outer Space - Laboratory and Factory for the future of Mankind. Contributor book The Home Planet, articles to professional publications.
Membership
Master: National Grand Lodge of Romania. Member: Association of Space Explorers, International Aeronautic Federation, Astronaut. Commission of Romanian Academy, Romanian Aeronautical Federation, International Astronautic Academy (correspondent), American-Romanian Academy for Science and Arts (honorary), Hermann Oberth - Wernher von Braun German Rocket Society (honorary), Rotary Club, York Rite.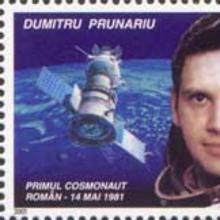 1976

1999

1999

1976 - 1977

1978 - 1981

1981 - 1990

1990 - 1991

1991 - 1998

1998