Wim Wenders (Ernst Wilhelm "Wim" Wenders)
Ernst Wilhelm "Wim" Wenders is a German filmmaker, playwright, author, photographer, and a major figure in New German Cinema. Among many honors, he has received three nominations for the Academy Award for Best Documentary Feature: for Buena Vista Social Club (1999), about Cuban music culture, Pina (2011), about the contemporary dance choreographer Pina Bausch, and The Salt of the Earth (2014), about Brazilian photographer Sebastião Salgado.
Background
Education
He graduated from high school in Oberhausen in the Ruhr area. He then studied medicine (1963–64) and philosophy (1964–65) in Freiburg and Düsseldorf. However, he dropped out of university studies and moved to Paris in October 1966 to become a painter. Wenders failed his entry test at France's national film school IDHEC (now La Fémis), and instead became an engraver in the studio of Johnny Friedlander, in Montparnasse. During this time, Wenders became fascinated with cinema, and saw up to five movies a day at the local movie theater.


Career
During the late 1960s Wenders studied film at the Munich Film Academy while working as a film critic. After directing eight short films for the academy, he made his first feature film, the thriller Die Angst des Tormanns beim Elfmeter (1971; The Goalie's Anxiety at the Penalty Kick). In 1976 he wrote, directed, and produced Im Lauf der Zeit ("In the Course of Time"; Eng. title Kings of the Road), a "buddy" picture pairing a linguist with a movie-projector repairman who can barely communicate as they travel across Germany together. Der amerikanische Freund (1977; The American Friend), based on Patricia Highsmith's Ripley's Game, explores the concept of dislocation, or separation. For this film, Wenders cast his longtime idol, film director Nicholas Ray, and the two later collaborated on the documentary Lightning over Water (1980), about the last days of Ray's life.

In 1978 Wenders went to Hollywood to direct Hammett, the story of American detective fiction writer Dashiell Hammett. Disputes between Wenders and executive producer Francis Ford Coppola resulted in the release of only a truncated version some years later. The difficulties Wenders encountered with Hammett served as inspiration for Der Stand der Dinge (1982; The State of Things), which depicts the mishaps of a film production in Portugal. Wenders achieved international fame in 1984 with the release of Paris, Texas, which was cowritten by Sam Shepard. The lyrical drama about a man in the American Southwest who is physically and spiritually lost won the Palme d'Or at the Cannes film festival. Three years later Wenders received the best-director award at Cannes for the hauntingly beautiful Der Himmel über Berlin ("Heaven over Berlin"; Eng. title Wings of Desire), in which angels roam modern-day Berlin. The film's sequel, In weiter Ferne, so nah! (1993; Faraway, So Close!), however, was far less successful artistically.

Wenders's films are notable for their lush visual imagery, largely because of the talents of his most frequent collaborator, the cinematographer Robby Müller. Wenders's later work includes Lisbon Story (1995), a sequel to The State of Things; the thriller The End of Violence (1997); the ensemble mystery The Million Dollar Hotel (2000); and the drama Palermo Shooting (2008). He also directed the documentaries Buena Vista Social Club (1999), about a group of veteran Cuban musicians; Pina (2011), a 3-D tribute to German choreographer Pina Bausch; and The Salt of the Earth (2014), a chronicle of the career of photojournalist Sebastião Salgado.
Personality
Winders remains romantically itinerant, in love with music, America, and the idea of the movies. But he is closing in on sixty, and nothing lately has been as big or as cogent as one would like to see. Not that one isn't appreciative: it was Wenders's tact and assistance that helped Antonioni to make another film far from worthless and altogether cleaner than the earlier hero-worship of Nick Ray; Buena Vista Social Club is a delight if a little monotonous. On the other hand, The End of Violence is pretentious and silly, and no feature film has really reminded us of the younger Wenders. In America is a project involving Sam Shepard, and one can only say that they both need the best in each other.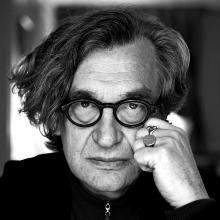 Born
August 14, 1945
(age 72)
Nationality
Ethnicity:
Contributor  
Other Names
Spelling variants for First Name
Spelling variants for Last/Family/Name
Middle Name
Album

Photo
Photo
Photo
Photo
Photo
Photo
Photo
Photo
Photo
Photo
Photo
Photo
Photo
Photo
Photo
Photo
Photo

Family description
General Info
Works

Director films including Summer in the City, 1970, The Goalie's Anxiety at the Penalty Kick, 1972, The Scarlet Letter, 1974, Alice in the Cities, 1974, The Wrong Move, 1975, Kings of the Road, 1976, The American Friend, 1977, Lightning Over Water (Nick's Movie, with Nicholas Ray), 1980, The State of Things, 1982, Hammett, 1982, Paris, Texas, 1984 (Palme d'Or, Cannes International Film Festival), Tokyo-Ga, 1985, Wings of Desire, 1987 (Best Director, Cannes International Film Festival), Aufzeichnungen zu Kleiderund Stadten, 1989, Until the End of the World, 1991, Far Away, So Close, 1993 (Cannes International Film Festival Grand Prize). Co-director Par Dela' Les Nuages, 1995, Lumiere et Compagnie, 1995, A Trick of the Light, 1996. Writer, director Beyond the Clouds, 1995, The End of Violence, 1997, Willie Nelson at the Teatro, 1998, Ode to Cologne: A Rock 'N' Roll Film, 2002, The Soul of a Man, 2003, Land of Plenty, 2004, Don't Come Knocking, 2005. Director, producer The Million Dollar Hotel, 2000. Producer Half the Rent, 2002, June Moon, 2002, Fools, 2003. Executive producer La Torcedura, 2004, Musica cubana, 2004. Author: Emotion Pictures, 1986, Written in the West, 1987, Die Logik de Bilder, 1988, The Act of Seeing, 1992, Million Dollar Hotel, 1999, Buena Vista Social Club, 1999.
book: Nick's film, Lightning over water (German and English Edition)

Works description
mainPhoto

book: Nicks Film Lightning Over Water Nicholas Ray

Works description
mainPhoto

book: Der Himmel Ueber Berlin / Wings of Desire (German Edition)
book: Written in the West
book: Die Logik der Bilder

Works description
mainPhoto

book: The Act of Seeing: Essays and Conversations
book: Wim Wenders: The Heart is a Sleeping Beauty: The Million Dollar Hotel; A Film Book

Works description
mainPhoto

book: Buena Vista Social Club
book: Buena Vista Social Club (Spanish Edition)

Works description
mainPhoto

book: Buena Vista Social Club

Works description
mainPhoto

book: Wim Wenders: Written in the West (Schirmer art books)
book: The act of seeing: Texte und Gesprache (Filmbibliothek) (German Edition)

Works description
mainPhoto

book: Buena Vista Social Club by Wenders, Wim (2000) Paperback

Works description
mainPhoto

book: BUENA VISTA SOCIAL CLUB: le livre du film.

Works description
mainPhoto

book: Buena Vista Social Club: The Book of the Film
book: El acto de ver / the Act of Seeing: Textos Y Conversaciones (Paidos La Memoria Del Cine) (Spanish Edition)

Works description
mainPhoto

book: Buena Vista Social Club. Con videocassetta

Works description
mainPhoto

book: Wings of Desire / the American Friend

Works description
mainPhoto

book: The Act of Seeing: Essays and Conversations
book: Act of Seeing Essays & Conversations

Works description
mainPhoto

Director films including Summer in the City, 1970, The Goalie's Anxiety at the Penalty Kick, 1972, The Scarlet Letter, 1974, Alice in the Cities, 1974, The Wrong Move, 1975, Kings of the Road, 1976, The American Friend, 1977, Lightning Over Water (Nick's Movie, with Nicholas Ray), 1980, The State of Things, 1982, Hammett, 1982, Paris, Texas, 1984 (Palme d'Or, Cannes International Film Festival), Tokyo-Ga, 1985, Wings of Desire, 1987 (Best Director, Cannes International Film Festival), Aufzeichnungen zu Kleiderund Stadten, 1989, Until the End of the World, 1991, Far Away, So Close, 1993 (Cannes International Film Festival Grand Prize). Co-director Par Dela' Les Nuages, 1995, Lumiere et Compagnie, 1995, A Trick of the Light, 1996. Writer, director Beyond the Clouds, 1995, The End of Violence, 1997, Willie Nelson at the Teatro, 1998, Ode to Cologne: A Rock 'N' Roll Film, 2002, The Soul of a Man, 2003, Land of Plenty, 2004, Don't Come Knocking, 2005.Director, producer The Million Dollar Hotel, 2000. Producer Half the Rent, 2002, June Moon, 2002, Fools, 2003. Executive producer La Torcedura, 2004, Musica cubana, 2004.Author: Emotion Pictures, 1986, Written in the West, 1987, Die Logik de Bilder, 1988, The Act of Seeing, 1992, Million Dollar Hotel, 1999, Buena Vista Social Club, 1999.

Person Photo
Religious beliefs
Views and World outlook
Quotations
Party affiliation description
Favorite Sports & Clubs
Favorite Athletes
Ethnicity details
School and college years description
Favorite Political Figures
Favorite Philosophers & Thinkers
Favorite Music & Bands
Favorite writers
Favorite Artists
Other interests
Career Description
Personality
Quotes from others about the person
Physical Characteristics
Go
up
Edit Profile