Background
Education
Career
Associate Cleary, Gottlieb, Steen & Hamilton, New York City, 1964-1966, Goldman, Sachs & Company, New York City, 1966-1970, partner, 1971, member management committee, 1980, vice chairman, co-chief operating officer, 1987-1990, co-senior partner, co-chairman, 1990-1992. Assistant to President for economic policy The White House, Washington, 1993-1995. Director The National Economic Council, 1993—1995.

Secretary United States Department Treasury, 1995-1999. Chairman executive committee Citigroup, Incorporated, New York York City, 1999—2008, interim chairman, 2007, senior counselor, 2008—2009. Vice chairman Council Foreign Relations, Washington, 2003—2007, co-chairman, since 2007.

Special limited partner Insight Venture Partners, New York City, since 2009. Counselor Centerview Partners LLC, since 2010. Member President's Advisory Committee for Trade Negotiations, Washington, 1980-1982, member advisory committee on tender offers Securities and Exchange Commission, Washington, 1983, Governor's Commission on Trade Competitiveness, 1987, regulatory advisory committee New York Stock Exchange, 1988-1990, advisory committee international capital markets Federal Reserve Bank New York, 1989-1993, Securities and Exchange Commission Market Oversight and Finance Services Advisory Committee, 1991-1993, Governor's Advisory Panel on Finance Services, 1988-1989.

Partner, board directors New York City Partnership Inc., 1991-1993. Board directors Center for National Policy, 1982-1993, vice chairman, 1984. Board directors New York Futures Exchange, New York City, 1979-1985, Chicago Board Options Exchange Inc., 1972-1976, Citigroup Inc., 1999-2009, Ford Motor Company, 2000-2006.

Board trustees Mount Sinai Hospital, 1977, vice chairman, 1986. Trustee Station W National Educational Television-television, 1985-1993, Carnegie Corporation of New York, 1990-1993. Member Mayor's Council Economic Advisors, 1990, Governor's Council on Fiscal and Economic Priorities, 1990-1992.

Member advisory board, Insight Venture Partners, since 2000.
Works
Membership
Trustee American Ballet Theatre Foundation, Incorporated, New York York City, 1969-1993, trustee Collegiate School, 1978-1984. Member board overseers' committee to visit economics department Harvard University, 1981-1987, committee on university resources, 1987-1992. Member finance committee New York campaign Mondale for President, 1983-1984.
Member investment advisory council New York City Pension Fund, 1980-1989. Chairman Democratic Congressional Dinner, Washington, 1982. Democrats for the 80s, 1985-1989, Democrats for the 90s, 1989-1990.
Chairman New York City host committee 1992 Democratic Convention, 1989-1992. Member Commission National Elections. Member Phi Beta Kappa, Harvard Club (New York City), Century Country Club (Purchase, New York ).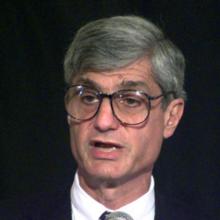 Born August 29, 1938
Nationality
1960

1961

1964

1996

1964 - 1966

1966 - 1970

1993 - 1995

1993 - 1995

1995 - 1999

1999 - 2008

2003 - 2007

2007

2009

2010