John Purroy Mitchel
John Purroy Mitchel, American mayor.
Background
Mitchel, John Purroy was born on July 19, 1879 in Fordham, New York, United States. Son of Captain James and Mary (Purroy) Mitchel.
Education
Purroy graduated from secondary school at Fordham Preparatory School in the late 1890s.

He obtained his bachelors degree from Columbia College of Columbia University in 1899 and graduated from New York Law School in 1901. His short career witnessed a turning point in New York State politics, in which the Democratic Party increasingly returned to positions of power after a long period of Republican dominance in many jurisdictions since the career of Grover Cleveland.
Career
Admitted to N.Y. bar, June 1901; spl. counsel to City of New York, Dec. 1906-Apr. 1907; commr. of accounts of New York, Apr. 22, 1907-09; pres. Bd. of Aldermen, 1909-13 (acting mayor, Aug.-Sept. 1910); collector Port of New York, June 7-Dec. 1913; mayor of New York, term Jan. 1, 1914-Dec. 31, 1917. Commd. major Aviation Corps, U.S.A., Jan. 11, 1918.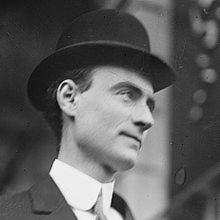 Born July 19, 1879
Died
July 6, 1918
(aged 38)
Nationality
Ethnicity:
Contributor  
First Name
Middle Name
School
Address
Family description
General Info
Background
Membership description
Relatives
School description
College/University Description
Personality
Quotes from others about the person
Physical Characteristics
Go
up
Edit Profile