Ajay Subramanian
Ajay R. Subramanian is the Bruce A. Palmer Professor of Risk Management and Insurance in the Robinson College of Business at Georgia State University. His research interests broadly lie in the areas of financial economics, microeconomic theory, industrial organization, mathematical finance and applied probability.
Education
Career
After obtaining his PhD, he spent almost 4 years as a quantitative research associate at Susquehanna International Group in Bala Cynwyd, PA. His time as a "quant" aroused his interest in financial economics. In August 2001, he returned to academia as an assistant professor of finance at the Georgia Institute of Technology and then decided to move to Georgia State University in August 2004 where he has been ever since.
Major achievements
He teaches courses on Stochastic Interest Rate and Credit Risk Models and Implementing Quantitative Financial Risk Models in Master's program in Mathematical Risk Management and a Doctor of Philosophy course on Game Theory and Mechanism Design in Doctor of Philosophy program He is currently the Director of the Department's Doctor of Philosophy program In the past, He has taught undergraduate and graduate courses on Derivative Securities, a Master's course on Financial Risk Management and a Doctor of Philosophy course on Dynamic Asset Pricing Theory.
Personality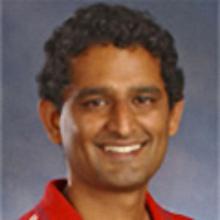 Born
October 23, 1970
(age 47)
Nationality
Ethnicity:
January, 1998 - July, 2001

2001 - 2004

2004 - 2007

2007 - 2009

2009 - 2012

2012
Contributor  
Awards
Works

book: Capital Structure Under Heterogeneous Beliefs
book: Dynamic Prudential Regulation
book: CEO Talent, CEO Compensation and Product Market Competition
book: Optimal Dynamic Risk-Taking
book: Catastrophe Risk Transfer
book: Power, Compensation and Corruption
book: Product Variety and Asset Pricing
paper: Product Variety and Asset Pricing
paper: Power, Compensation and Corruption
paper: Catastrophe Risk Transfer
paper: Optimal Dynamic Risk-Taking
paper: CEO Talent, CEO Compensation and Product Market Competition
paper: Dynamic Prudential Regulation
paper: Capital Structure Under Heterogeneous Beliefs
Go
up
Edit Profile