Zooey Claire Deschanel (Zo, Zuzu)
Background
Ethnicity: Her paternal grandfather was French. Her ancestry also includes English, German, Irish, Northern Irish (Scots-Irish), other French roots, Swiss, and Dutch.
Zooey Deschanel was born in 1980 into a showbiz family. Her father, Caleb Deschanel, is an Academy Award-nominated cinematographer (perhaps most notably for Страсти Христовы (2004) and her mother, Mary Jo Deschanel , is an actress who appeared in 1990. Her paternal grandfather was French, and her other roots include English, German, Scottish, Irish, and Dutch.

Driven from an early age to become a successful actress, Zooey got her big break, at age 17, playing a model in the TV sitcom, Veronica's Closet (1997).
Education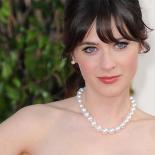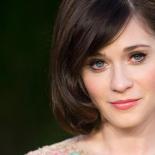 Career
In 1999, Deschanel made her film debut in Mumford, followed by her breakout role as young protagonist William Miller's troubled older sister Anita in Cameron Crowe's 2000 semi-autobiographical film Almost Famous. Deschanel soon became known for her deadpan or "Manic Pixie Dream Girl" supporting roles in films such as Elf (2003), The Hitchhiker's Guide to the Galaxy (2005), Failure to Launch (2006), Bridge to Terabithia (2007), and The Happening (2008). She then began playing lead roles in films, including Yes Man (2008) and (500) Days of Summer (2009). She currently stars in the Fox series New Girl. She has been nominated for Golden Globe and Grammy Awards. For a few years starting in 2001, Deschanel performed in the jazz cabaret act If All the Stars Were Pretty Babies with fellow actress Samantha Shelton. Besides singing, she plays keyboards, percussion, banjo and ukulele.

She also often sings in her films. Deschanel teamed up with M. Ward to release their debut album Volume One (recorded with M. Ward under the moniker She & Him) which was released in March 2008. The follow-up album Volume Two was released in the U.S. in March 2010.
Major achievements
Discography:

Studio albums

2008: Volume One

2010: Volume Two

2011: A Very She and Him Christmas

Singles

"Why Do You Let Me Stay Here?" (January, 2008)

"Have Yourself A Merry Little Christmas" (December, 2009)

"In the Sun" (February, 2010)

"Thieves" (June, 2010)

Soundtracks

2009: Sweetheart "I Put A Spell On You" (Starbucks' Civil Defense)

2007: The Go-Getter "When I Get To The Border"

2009: (500) Days of Summer "Please, Please, Please, Let Me Get What I Want"
Filmography:

1999 Mumford

2000 Almost Famous

2001 Manic

2002 The Good Girl

2002 Abandon

2002 Big Trouble

2002 The New Guy

2004 Eulogy

2005 The Hitchhiker's Guide to the Galaxy

2006 Failure to Launch

2006 Live Free or Die

2008 Gigantic

2008 The Happening

2008 Yes Man

2009 (500) Days of Summer

2011–present New Girl
Music Career

The multitalented Deschanel has also enjoyed some success as a recording artist. She met singer and songwriter M. Ward in 2006. The pair worked on a song together for the soundtrack of Deschanel's 2007 film The Go-Getter, and they really hit it off. They formed their own musical group, She & Him, and released their first self-titled album in 2008. Two years later, She & Him, Volume 2 came out.

Deschanel has also been tapped to play famed country singer Loretta Lynn in a musical based on Lynn's autobiography, Coal Miner's Daughter.
2003 "Baby, It's Cold Outside" with Leon Redbone.

2005 "In a Little While" with Matthew Morrison.

2008 "Yes Man" "Sweet Ballad" "Uh-huh" "Keystar" with Von Iva "Can't Buy Me Love" with Jim Carrey.

2009 "Sugar Town".

2011 "A Very Important Thing to Do" ; "Everything is Honey" with Jim Cummings and Robert Lopez ;"Winnie the Pooh" with M. Ward ;"So Long" with M. Ward ;''Finale" with Jim Cummings, Robert Lopez and cast.

2011 "The Greatest Most Beautiful Love Song in All the Land" with James Franco.

2011 "Hey Girl".

2014 "Fallinlove2nite" with Prince and 3rdeyegirl for New Girl.
Personality
Long dark hair with bangs.

Her big blue eyes.

Frequently plays socially awkward, energetic and sweet-natured characters.

Interesting Fact: Zooey is named after the male character from J.D. Salinger's wonderful Franny and Zooey.

Interesting Fact: She plays the piano and the ukulele.

Interesting Fact: She went to school with Almost Famous co-star Kate Hudson.

Interesting Fact: Elijah Wood is a fan of Zooey's.

Interesting Fact: She has dated Mickey Madden from the band Maroon 5, Jason Schwartzman (Rushmore), Matthew Davis (Legally Blonde), Chris Kattan (SNL), Danhi Harrison (George's son), and Hunter Bergan from the band AFI.

Interesting Fact: She collects oversized sunglasses and vintage coats.

Interesting Fact: She turned down a part in the indie Bully to star in Big Trouble.

Interesting Fact: She has performed with the comedy group Manifest Destinyfest.

Interesting Fact: She and actress pal Samantha Shelton (Marley's sister) make up the band If All the Stars Were Pretty Babies. They perform original cabaret acts around LA.
Interests
Writers: Raymond Chandler "The Lady in the Lake".
Artists: Big fan of actress Parker Posey.
Jazz singing, philosophy, fashion and photography.

Favorite Color: Red
Music & Bands: Favorite Musicians: Journey, Judy Garland, and Ella Fitzgerald

Favorite Movie: The 400 Blows
Connections
In mid-2014, Deschanel began dating producer Jacob Pechenik. On January 13, 2015, Deschanel announced that they are expecting their first child.

Partner (2014-present): Jacob Pechenik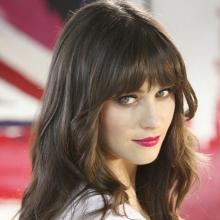 Born
January 17, 1980
(age 37)
Nationality
Ethnicity: