Richard M. Burr
Richard M. Burr, United States Senator from North Carolina, former congressman. Named Legislation of Year, Biotechnology Industry Organization, 2002; recipient Alfred & Alma Hitchcock Tribute award, Cystic Fibrosis Foundation, 1999, Manufacturing Legislation Excellence award, National Association Manufacturers, 1999, Ground Water Protector award, National Ground Water Association, 2000, Jefferson award, Citizens for Sound Economic, 2001.
Background
Career
National sales manager Carswell Distributing, Winston-Salem, North Carolina, 1978-1994. State co-chairman North Carolina Taxpayers United, 1993-1998. Member from 5th North Carolina district United States House of Representatives, 1995—2005.

United States Senator from North Carolina, since 2005. Member veterans' affairs, armed services, energy & natural resources, health, education, labor & pensions committees and the select committee on intelligence United States Senate.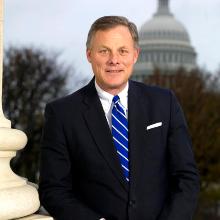 Born
November 30, 1955
(age 61)
Nationality
1978

1978 - 1994

1993 - 1998

1995 - 2005

2005