Thomas Mallon
Thomas Mallon, American writer. Recipient Ingram Merrill award, 1994, National Book Critics Circuit citation for excellence in reviewing, 1998, Great Lakes Book award for fiction, 1998; Rockefeller Foundation fellow, 1986-1987, Guggenheim fellow, 2000-2001. Member Poets, Playwrights, Editors, Essayists and Novelists association American, Phi Beta Kappa.
Background
Education
Career
Assistant professor English Vassar College, Poughkeepsie, New York, 1979-1985, associate professor, 1985-1989, lecturer in English, 1989-1991. Literature editor Gentlemen's Quarterly, New York City, 1991-1995, writer-at-large, 1995-1999. Member National Council on Humanities, 2002—2005.

Deputy chairman National Endowment of the Humanities, Washington, 2005—2006. Professor English George Washington University, since 2007, director creative writing program, since 2010.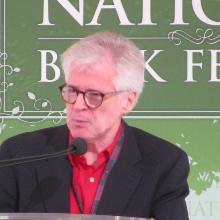 Born
November 2, 1951
(age 66)
1973

1974

1978

1979 - 1985

1991 - 1995

2002 - 2005

2005 - 2006
Award