Education
Bachelor of Laws, Chulalongkorn University, 1979. Master of Arts in Law and Diplomacy, Fletcher School of Law and Diplomacy, Tufts University, 1981. Master of Laws, Harvard Law School, 1982.

Doctor of Juridical Science, Harvard Law School, 1985. Doctor of Philosophy in Public Administration (honorary), Eastern Asian University, 2006.
Career
President Institute Society & Economic Policy, 1997—2001. Chairman executive board Petroleum Authority Thailand, 1999—2000. Policy advisory to prime minister Government of Thailand, Bangkok, 1988—1991, advisory to National Assembly, 1989—1991, policy advisor to prime minister on economic affairs, 1992, minister finance, 1995—1996, minister foreign affairs, 2001—2005, deputy prime minister, 2005—2006.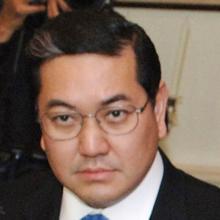 1979

1981

1982

1985

2006

1988 - 1991

1989 - 1991

1995 - 1996

1997 - 2001

1999

2001 - 2005

2005 - 2006