Background
Education
Doctor of Medicine, University Malta, 1937. Diploma in Ophthalmology, Oxford University, 1946. Diploma in Ophthalmic Medicine and Surgery, London University, 1947.

Diploma in Medical Jurisprudence, S.A. London University, 1962. Doctor of Medicine (honorary), Beijing Medical College. Doctor of Laws (honorary), University Malta.
Career
Army medical officer, 1939-1946. Clinical officer Royal Eye Hospital, London, 1946. Consultant St. Luke's Hospital, Victoria Hospital, King George V Hospital, Malta.

Medical consultant World Health Organization, 1952-1959. Member Parliament, Malta, 1966-1989. Minister of labour Malta, 1966-1971.

Minister foreign affairs Malta, 1987-1989. President of Malta, 1989-1994. Member panel Trachoma experts World Health Organization.

Visiting professor international affairs, University Malta.
Connections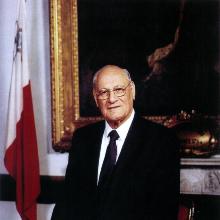 Born March 30, 1913
Nationality
1937

1946

1947

1962

1939 - 1946

1946

1952 - 1959

1966 - 1989

1966 - 1971

1987 - 1989

1989 - 1994