Background
Education
Career
Deputy county assessor San Diego (California) County, 1935-1941. City storekeeper Oceanside, California, 1937-1938. Supervisor procurement critical materials Department Navy, 1940-1949.

Secretary-manager Fraternal Order Eagles, San Diego, 1949-1960. With Shoreline Insurance Company, 1960-1963. Councilman, 1955-1963.

Vice mayor, 1957, 58, 61, 62. Mayor, 1963-1972; executive vice president Central City Association San Diego, Inc., 1989-1992. General chairman Inter-American Municipal Organization Congress, San Diego, 1960.

Presiding officer Punta del Este, Uruguay, 1962-1972, member national board directors, 1962-1972. Board directors League California Cities, 1964-1972, director-at-large executive committee, 1964-1972, member resolutions committees, 1964-1972. City representative to league committee on international municipal cooperative, 1961-1972.

Member policy committee San Diego-Border Area Program, after 1963. Board directors Palm City Sanitation District, after 1964. Member Governor Calif Advisory Committee, after 1963.

Special representative governor California to Commission Californias, after 1964. Member community relations committee United States Conference Mayors, 1965-1972. Chairman committee international municipal cooperative National League Cities, 1965-1972, vice president, 1969, president, 1970, board directors, 1971.

Chairman Cooperative Area Manpower Planning System, 1970. Member Government Task Force on Coastline Preservation, 1970.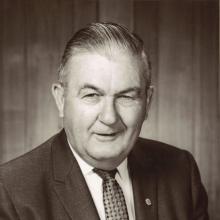 1935 - 1941

1937 - 1938

1940 - 1949

1949 - 1960

1955 - 1963

1957

1960 - 1963

1963 - 1972

1989 - 1992
Award