Kenneth Corn
Kenneth Corn, American former state legislator. Named Legislator of Yr.Association, Oklahoma Trooper Association; recipient National Leadership Volunteer award, March of Dimes. Member of Oklahoma Civil Air Patrol, Farm Bureau, Oklahoma Cattlemen's Association, Spiro Chamber of Commerce, Poteau Heavener, Kiwanis Club, Masonic Lodge.
Career
State representative District 3, Oklahoma, 1999—2002. State senator District 4, 2003—2011. Democratic caucus chairman.

Member Rules Committee, Retirement & Group Health Committee, Finance Committee, Energy & Environmental Committee, Agriculture Committee, Rural Development Committee. Vice chairman General Government Committee. Chairman Appropriations Subcommittee, Public Safety & Judiciary Subcommittee.

State senator Oklahoma.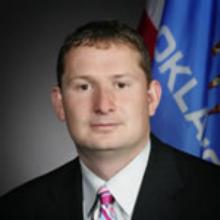 Born
October 8, 1976
(age 41)
Nationality
2005

1999 - 2002

2003 - 2011