Pete T. Cenarrusa
Pete T. Cenarrusa was American state official. Achievements include serving longer than any constitutional official elected in Idaho concluding with 50 years on 12/1/00. Named Honorary Farmer Future Farmers American, 1955; inductee Agricultural Hall of Fame, 1973, Idaho Athletic Hall of Fame, 1976, Basque Hall of Fame, 1983, Idaho Hall of Fame, 1998; recipient American Century award for Idaho Washington Times Foundation.
Background
Career
Teacher high school, Cambridge, Idaho, 1940-1941, Carey and Glenns Ferry, 1946. Teacher vocational agriculture VA, Blaine County, 1946-1951. Farmer, woolgrower, near Carey, 1946-1995.

Member Idaho House of Representatives, 1951-1967, speaker, 1963-1967. Secretary state of Idaho, 1967—1990, 1991—2002. Member Idaho Board Land Commissioners, Idaho Board Examiners.

President Idaho Flying Legislators, 1953-1963. Chairman Idaho Legislation Council, since 1964, Idaho Government Reorganization Committee. Idaho delegate Council State Governments, since 1963.
Major achievements
Membership
Elected official, member Bureau of Land Management Advisory Council, Boise District. Republican administrator Hall of Fame, 1978. Senior member State Board Land Commissioners, 1967-1996.
Dean Nations Secretaries of State, since 1967. Major United States Marine Corps Reserve, 1942-1946, 52-58. Member Blaine County Livestock Marketing Association, Idaho Wool Growers Association (chairman 1954), Carey Chamber of Commerce (president 1952), University Idaho Alumni Association, Gamma Sigma Delta, Tau Kappa Epsilon.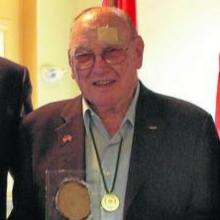 Born December 16, 1917
Nationality
1940

1940 - 1941

1946

1946 - 1951

1946 - 1995

1951 - 1967

1963 - 1967

1967 - 1990

1991 - 2002