Background
Education
Career
Commissioned ensign United States Navy, 1966, advanced through grades to rear admiral, 1991. Engineer officer United States Ship Tunny, Charleston, South Carolina, 1972-1975. Staff engineer Commander in Chief, United States Pacific Fleet, Pearl Harbor, Hawaii, 1975-1978.

Executive officer United States Ship Parche, Mare Islands, California, 1978-1981. Commanding officer United States Ship Pogy, 1982-1985. Executive assistant Deputy Chief of Naval Operations, Washington, 1985-1986.

Commander Submarine Group 7, Yokosuka, Japan, 1986-1988. Chief of staff, Commander United States Seventh Fleet, 1988-1990. Commander Training Command, United States Pacific Fleet, San Diego, 1990-2000.

President Caribou Technologies, Inc., Boise, Idaho, since 2000.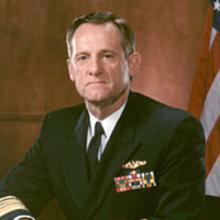 Born
November 18, 1943
(age 74)
1966

1972

1966

1972 - 1975

1975 - 1978

1978 - 1981

1982 - 1985

1985 - 1986

1986 - 1988

1988 - 1990

1990

1991